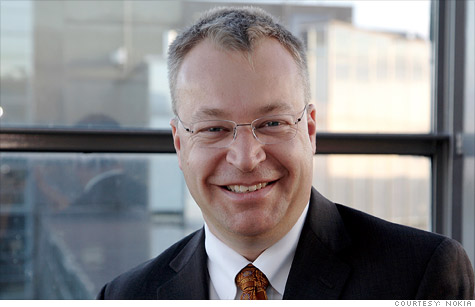 Nokia CEO Stephen Elop said the Windows Phone transition needs to be sped up.
NEW YORK (CNNMoney) -- Shares of Finnish mobile phone giant Nokia plummeted Tuesday after the company said it expects device sales to come in "substantially below" its quarterly estimates.
Nokia's (NOK) stock fell 14% by the market's close.
The company said many factors played into the depressed sales expectations, including slumping demand in China and Europe, a shift in consumers' buying habits towards lower-priced phones and increased discounts offered by Nokia.
Nokia said second quarter sales in its devices and services division will not meet the range of $8.8 billion to $9.5 billion that it forecast in April. It also said its operating margin will be below the 6% to 9% range it had previously expected.
The company did not give a specific new estimate for sales, as it stressed that the situation was still very much up in the air, but Nokia said its margin could be as low as break-even for the quarter. Nokia said its previous quarterly and annual forecasts are no longer valid, and it won't issue any more full-year guidance for the rest of 2011.
In its statement, Nokia said it is taking "immediate action" to fix the problems facing its devices and services business.
Part of the solution -- and the problem -- is that the company is transitioning away from developing and selling its own, underperforming mobile operating system called Symbian. Instead, Nokia partnered with Microsoft (MSFT, Fortune 500) this year to make Windows Mobile Nokia's primary smartphone operating system.
As a result, Nokia's CEO of eight months Stephen Elop said his company is undergoing some bumps in the road during the changeover period, and Nokia needs to make the switch a smoother and faster one.
"Strategy transitions are difficult," said Nokia CEO Stephen Elop in a prepared statement. "We recognize the need to deliver great mobile products, and therefore we must accelerate the pace of our transition."
Elop said that Nokia "remains pleased" with the progress of its Windows Phone strategy, and it still plans on shipping its first Windows device in the fourth quarter. Meanwhile, the company will continue to invest in Symbian and will keep cutting unnecessary costs.
Nokia will announce its current quarter results on July 21.