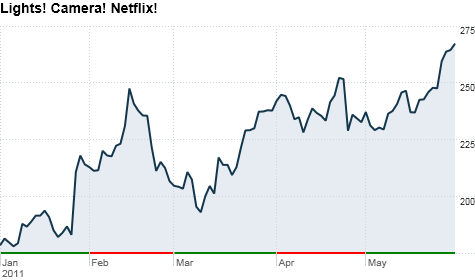 There have been many plot twists in Netflix's stock. But shares are back at an all-time high. Click the chart for more on NFLX
NEW YORK (CNNMoney) -- Sell in May and go away? Someone forgot to tell Netflix investors about that little saying.
Sure, the broader market hit a rough patch this month. Heading into Tuesday, the S&P 500 had fallen about 2.4% in May. And although stocks enjoyed a nice post-Memorial Day rally Tuesday, it won't be enough to push the market into the black for the month.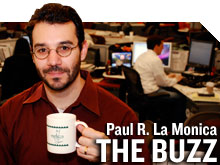 But Netflix (NFLX) has bucked the downward trend. It is the fourth-best performer in the S&P 500 this month. The stock is up nearly 15% in May and hit a new all-time high Tuesday. (Netflix is one of several stocks that has more than doubled in the past year.)
Why has Netflix done so well during a month where so-called defensive stocks in the consumer staples, health care and utility sectors beat the market?
Investors flocked into companies that pay solid dividends, have attractive valuations and whose earnings could hold up better if the economy continues to lose steam. Netflix, which doesn't pay a dividend and is trading at about 60 times 2011 earnings estimates, does not fit that bill.
Of course, momentum investors didn't exactly shrivel up and die in May. LinkedIn's (LNKD) IPO was a phenomenal success. Other hot tech stocks in the S&P 500 were up sharply as well, including F5 Networks (FFIV), Salesforce.com (CRM) and NetApp (NTAP).
But here's the thing about Netflix. As strange as it may sound, some actually think that the company has more in common with stodgy consumer staples firms than more cyclical tech stocks.
Netflix has made huge waves in the media business during the past few years by branching beyond its "old" DVD in the mail business into online video streaming.
The company has been a bit of a thorn in the side of studios and cable companies because its online video offering -- unlimited streaming for $7.99 a month -- is a more economical TV and movie option when compared to buying DVDs or large monthly cable bills.
"Netflix is a disruptive play. Streaming video online at cheap prices is something that could even do well in a downturn," said Gerry Sparrow, chief investment officer with Sparrow Capital, a St. Louis-based money manager that owns shares of Netflix in the Sparrow Growth Fund (SGFFX).
The company continues to justify all the hype. Earnings in the first quarter nearly doubled from a year ago and beat analysts' expectations. Sales rose 46%. Netflix ended the quarter with 23.6 million users, propelling it past Comcast (CMCSA, Fortune 500) as the top provider of subscription video content.
Richard England, portfolio manager of the Calvert Equity Portfolio (CSIEX) in Atlanta, said he thinks that Netflix should not have a problem surpassing Wall Street's consensus estimates for "the next couple of years." Netflix is the fund's largest holding.
England notes that the company has little in the way of direct competition. Blockbuster filed for bankruptcy and is now owned by satellite TV firm Dish Network (DISH, Fortune 500). And Redbox, the $1 DVD rental kiosk service owned by Coinstar (CSTR), has yet to make a big splash in online video.
Still, England pointed out that many investors are still "divided" on Netflix's stock. Short sellers continue to circle Netflix. As of mid-May, more than 20% of the available shares were being held short. That's incredibly high.
And with the stock trading at such an exorbitant valuation, it makes sense that there are bears who think Netflix is wildly overpriced.
Sparrow conceded that the stock is hardly dirt cheap. But he added that as long as the company continues to wow investors with robust earnings, subscriber and cash flow growth, the stock is probably worth the price.
"You can get a nosebleed at these levels but Netflix has lived up to the expectations," he said.
But Netflix is not for the faint of heart. Shares started the year around $180 and surged to nearly $250 by Valentine's Day. But they pulled back to the low $190s by early March before starting to rally again.
For a stock like Netflix, it doesn't take much to spook fickle short-term investors. Cisco (CSCO, Fortune 500) used to be a stock that could do no wrong. Same for Google (GOOG, Fortune 500). Netflix is basking in its status as Wall Street darling for now. But for how much longer?
Bob Bacarella, manager of the Monetta Fund (MONTX) in Wheaton, Ill., finally waved the white surrender flag (or should it be a thin red envelope?) on Netflix earlier this year. He said he sold his stake in Netflix because he couldn't stomach the stock's lofty valuation any longer.
"Netflix is a pure momentum stock. There is a lot of volatility and a lot of heartburn," he said. "There are better investments where I could sleep at night."
The opinions expressed in this commentary are solely those of Paul R. La Monica. Other than Time Warner, the parent of CNNMoney, and Abbott Laboratories, La Monica does not own positions in any individual stocks.