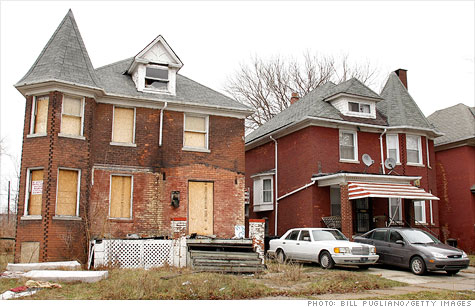 In Detroit, foreclosed and abandoned houses often abut family homes.
NEW YORK (CNNMoney) -- A group of religious leaders from Detroit is blaming JPMorgan Chase and Bank of America for contributing to blight in the city.
Rev. Charles Williams II of Historic King Solomon Baptist Church says the banks contribute to the decline of neighborhoods by neglecting houses after they foreclose on them, allowing the structures to fall into ruin.
"They kick people out of these properties and now they're abandoned, windows kicked out, pipes stolen," said Williams. "This is a city-wide epidemic. We want to call Chase into action to put money back into these houses and put people back into these houses."
Urban and suburban blight is a familiar sight in the Motor City. Block after residential block in what were once considered middle-class neighborhoods are now pockmarked with abandoned houses, often stuffed with garbage or gutted by fire.
These ruined houses often abut homes that are still inhabited by working families.
"Blight breeds blight breeds blight," said Williams. "I don't know if you have had the urban experience of sending your kid to school and they have to walk down a block of abandoned houses, but that's not safe."
JPMorgan Chase (JPM, Fortune 500) spokeswoman Nancy Norris denied the minister's allegations. "We have a disciplined program to check on and maintain properties after foreclosure," she said.
Bank of America (BAC, Fortune 500) spokesman Rick Simon said his bank considered foreclosure a "last resort" and was preparing to open three customer assistance centers in the Detroit area "to serve mortgage and other credit customers who are facing financial difficulty."
Simon also said Bank of America plans to work with the city "to identify up to 100 low-value and vacant properties for demolition" and donate the land to the city "for green space, urban farming or redevelopment."
In the metropolitan area of Detroit, Warren and Livonia, 21,192 homes were involved in some form of foreclosure filing in the first quarter of 2011, equal to more than 1.1% of the total homes in that area, according to RealtyTrac.
Williams said that he and 10 other ministers held a news conference Wednesday in front of a foreclosed property owned by Chase.
But Chase spokeswoman Norris said that the bank does not, in fact, own the home that was the setting for the briefing.
"We found it kind of odd that they went to a house that's not owned by us, to criticize us," she said.
Williams, however, insisted that the house on Biltmore Street on the west side of Detroit "is, in fact, foreclosed property by Chase Bank."
Chase spokesman Tom Kelly confirmed that his bank did service the mortgage on the home and did foreclose on the home, but did not own it at anytime.
-- Staff writer Les Christie contributed to this story.