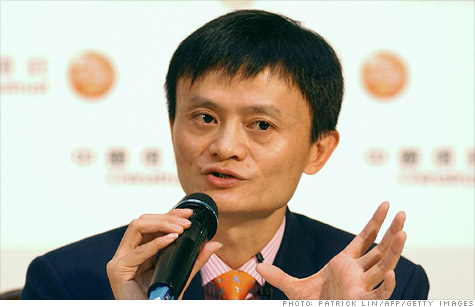 NEW YORK (CNNMoney) -- Alibaba's "peace talks" with major stakeholder Yahoo have been slow going, CEO Jack Ma said Wednesday -- and he had plenty to say about how the big purple giant could fix its problems.
Ma took the stage late Wednesday at the D9 conference in Rancho Palos Verdes, Calif., for a discussion with All Things D columnist Kara Swisher.
Ma's speech was highly anticipated following last month's major controversy: Yahoo disclosed to the Securities and Exchange Commission that Alibaba had transferred 100% of its ownership of e-commerce Alipay to a new company controlled by Ma.
Alibaba said it was necessary to restructure Alipay as a domestic Chinese company in order to speed up the process for obtaining a regulatory license. But Yahoo (YHOO, Fortune 500) said it was not made aware of the asset transfer until March 31 -- and that it "occurred without the knowledge or approval of the Alibaba Group board of directors or shareholders."
Alibaba disputed those claims, saying the transfer was discussed at several board meetings years ago.
Yahoo execs, including CEO Carol Bartz, declined to answer many Alibaba-related questions at Yahoo's analyst day event last week.
"I don't know and I don't want to know why [Yahoo is] saying what they're saying," Ma said Wednesday. "We've been taking about this for two years."
Despite that major disagreement, Ma said the two companies are actively talking to resolve the issue.
"It's like a peace talk with the United Nations," he said. "It's very complicated."
Swisher asked how close Yahoo and Alibaba are to an agreement, and whether Ma expects some kind of deal.
"Peace talks are always difficult, but I'm an optimistic guy," Ma said, adding that he believes a resolution will be reached eventually -- and that he "has a lot of colleagues" to think about during negotiations.
Swisher asked Ma whether he is interested in getting Alibaba shares back from Yahoo and from Softbank, the other majority shareholder. In September, Alibaba offered to buy back Yahoo's stake for about $11 billion but was rebuffed.
"We want to get back some of the shares to make sure Alibaba is healthy," Ma said. "If we can do something to adjust that, I'd be happy."
But Ma insisted that his focus remains on getting Alipay a license, for the sake of both Alibaba and Chinese companies as a whole. In addition to owning Yahoo China and Alipay, Alibaba also owns B2B platform Alibaba.com and e-commerce site Taobao.
"We are setting examples for other Chinese companies who want to do business," Ma said. "The principle is that we have to be 100% legal, 100% transparent."
Later in the discussion, Ma expressed frustration with people who questioned his desire to follow the Chinese regulatory law.
"People are saying there are millions of ways to avoid it, and that's sad to me," Ma said.
"My advice [to companies in regard] to government is the same everywhere: Love them, don't marry them," he added.
Ma said he was "nervous" about a lack of domestic competition for Alibaba, and that he hopes the company's success will lead to more firms springing up.
And Ma has a few suggestions for his stagnating shareholder, even though he acknowledged that "it's not easy to turn around a company" and he has "great respect" for those still fighting for Yahoo.
"If running a big company isn't easy, divide it up into a few small companies," Ma said, making cutting motions with his hand. "And I think they should be more open minded about ways to solve their problems."
But after those comments, Ma added: "What I believe isn't important. What Carol believes is important."