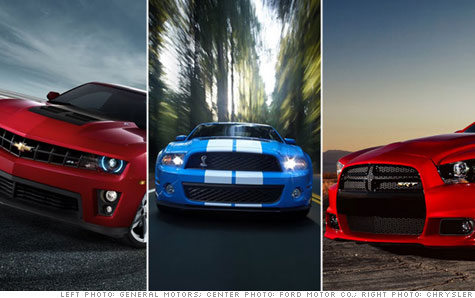 Here's what the experts think Detroit automakers need to do to keep the turn-around going in the right direction.
NEW YORK (CNNMoney) -- All three domestic automakers are growing sales, adding jobs and, for the first time in years, they're profitable.
The question now is, can they keep it going? American carmakers have changed their ways before, only to return to their bad habits.
Here are three things experts think Detroit automakers need to do to keep their wheels on the road.
Don't take your eye off the product: No, General Motors, people don't care about catchy marketing. They're coming into your showrooms because you've got competitive products.
"The consumer now isn't Detroit-centric," said David Champion, head of auto testing for Consumer Reports magazine. "They'll buy the best cars they can from anywhere."
And it's not just the Japanese anymore. South Korea's Hyundai and Kia are gulping market share from everybody.
General Motors (GM, Fortune 500) in particular, is where there are concerns about continued product focus.
There's no question that GM's current product line-up is the best and most competitive the automaker has ever fielded.
What GM lacks, Champion and others said, is someone to fill the cowboy boots of retired vice chairman Bob Lutz. Lutz's fanatical devotion to product quality helped guide brands like Buick from near death to real vibrancy.
"Who's going to play that role going forward?" wondered Jeremy Anwyl, chief executive of the auto Web site Edmunds.com.
CEO Daniel Akerson's background is in telecommunications and some critics say there doesn't seem to be a strong top figure with a proven touch with cars.
Those worries are misplaced, GM spokesman Terry Rhadigan said. Much of the concern, he recognized, has stemmed from the appointment of Mary Barra as the automaker's head of product development. Barra is a human resources executive with an engineering background in manufacturing.
But Barra has long been an important part of GM's product development strategy process, Rhadigan said, and has played a key role in making sure GM could produce technically challenging cars like the Cadillac CTS coupe and the Camaro convertible.
Ford has (F, Fortune 500) clearly made great strides in product quality on every front, Champion said. Its products are now as dependable as any on the market and Ford's most recently introduced cars, in particular, are attractive and enjoyable to drive.
But there has been one wrinkle: Ford's new MyFord Touch, a more complex version of the Sync entertainment and phone system.
Consumer Reports magazine, regarded as the most influential publication among car shoppers, has declined to recommend some of Ford's crossover SUVs largely because of issues with the system.
Chrysler is also headed in the right direction, Champion said. While many of their older products are still far from world class, Chrysler Group's newest cars and SUVs -- the Dodge Charger, Chrysler 300, Dodge Durango and Jeep Grand Cherokee -- are outstanding products, Champion said. Clearly, Chrysler's engineers and designers know what they need to do.
Chrysler Group CEO Sergio Marchionne is also head of Italy's Fiat, now Chrysler's controlling shareholder. At Fiat, he's already shown that he can lead an automaker from the brink and back to success.
Don't reach for the rebate gun: Detroit automakers also need to make sure they're selling cars the right way.
"Keep fleet sales down, make sure incentives don't creep back up" said John Humphrey, senior vice president for global automotive operations at J.D. Power and Associates.
Too heavy a reliance on fleet sales results in a glut of used cars dragging down resale values. (The Money Poll: Are you a bargain shopper?)
Over-reliance on rebates is bad for a couple of reasons. For one thing a $5,000 rebate costs at least $5,000. For another, rebates damage product image and resale value -- with rebates this big the car must be garbage, right?
Fortunately, Ford, Chrysler and GM are all moving in the correct direction on this stuff. Fleet sales, as a proportion of overall sales, are shrinking and rebates are down, too.
Detroit automakers are also cutting back on incentives, although they remain at the industry's high end. Ford and GM have even been raising sticker prices this past year in response to higher consumer demand.
Besides that, customers are also buying more heavily optioned, and therefore more expensive and more profitable, versions of the cars they choose, Ford economist George Pipas said.
Be ready to innovate: Most new cars on the market are now so good that differences in basic product quality are mostly negligible, as far as most buyers are concerned.
"There's a lot of parity out there in the industry," said J.D. Power's Humphrey "and there's room for someone to really set themselves apart."

One way to do that is with technology. According to surveys, younger buyers value that more than any other aspect of a new car.
Ford is doing that with its popular Sync system that integrates MP3 players and cell phones into cars' onboard entertainment systems. The system can be credited with helping Ford boost sales for its cars.
Unfortunately the latest version has also been a turn-off to some owners and critics. In addition to confusing some users, the system has shown a tendency crash and reboot itself at inopportune times.
This shows some of the risks of innovation, but it's a risk experts say is worth taking.
Ford executives have said they are working on improvements to address these issues.
GM's trying to catch up with new versions of its OnStar system and Chrysler's looking to improve its uConnect system. Chrysler, in particular, is putting an emphasis on ease of use with its system. In addition to touch screens and voice controls, the new uConnect systems have "the familiar knobs and dials we're all used to," said Joani Christensen, head of marketing for uConnect.
Asian competitors are moving fast, too.
Hyundai (HYMTF) will begin selling its new BlueLink system soon and Toyota (TM) will also soon be offering cars with its new Entune system.
"It speaks to a broader challenge," said Anwyl. "How do they increase the responsiveness and speed up the timing of their decision-making."