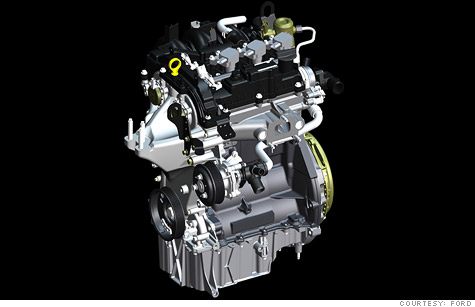 Ford says its little engine has all the power of a four-cylinder depite having only three.
NEW YORK (CNNMoney) -- Ford will build a three-cylinder engine -- its smallest engine ever -- with better fuel economy and all the power of a larger one, the company said Thursday.
The new EcoBoost engine, comparable to that found in a cruiser motorcycle, is in the final phase of development. EcoBoost engines will be available in 90 percent of Ford's North American lineup by 2013, the automaker said in a press release.
Ford (F, Fortune 500) said the engine is designed to have higher fuel economy and lower emissions than a traditional four-cylinder, without sacrificing power and performance.
The 1.0-liter engine will deliver horsepower and torque outputs equivalent to or better than most conventional 1.6-liter gasoline engines, according to the release.
Recently drivers are opting for smaller engines.
More than half of Ford F-150 truck buyers purchased versions with recently introduced EcoBoost V6 engines rather than the more traditional V8's, the automaker said in its latest sales report.
The hyper-efficient three-cylinder engine will be available globally in the company's small cars and will "play an important role in North America," the automaker said.
"No one's ever built a three-cylinder engine quite like this," said Joe Bakaj, a Ford engineering executive. "Not only is it one of the most technically advanced and efficient engines we've ever designed, but it will introduce a number of new technologies to the Ford engine lineup."
Daimler has been using three-cylinder engines in its Smart line of microcars for years. But Ford is the first major U.S. automaker to introduce such a small engine on the global market.
Ford said its engineers started working on a three-cylinder engine at its research center in the United Kingdom before gas prices jumped near $4 a gallon. It was previewed last year in China and made its debut in Europe earlier this year.
The Dearborn, Mich.-based company said it will release more details on the engine in September at the Frankfurt Motor Show.