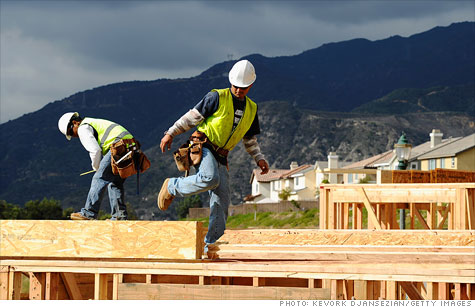 NEW YORK (CNNMoney) -- Home prices won't rebound until jobs come back. But jobs won't come back until the housing mess gets fixed.
That's a problem because both the housing market and the broader economy are having trouble getting back in gear. Hiring is losing steam, and after home values hit a post-boom low, many are projecting further price declines.

"The economy can move forward without housing," said Mark Zandi, chief economist with Moody's Analytics. "But I don't think it can flourish and create enough jobs to bring down unemployment in a significant way without a revival of the housing market."
Both Moody's Analytics and mortgage finance giant Fannie Mae (FNMA, Fortune 500) are projecting an additional 5% home price decline through the end of this year. But some economists think the turnaround could be even further away. Barry Ritholtz of Fusion IQ and Dean Baker of the Center for Economic and Policy Research both think prices are overvalued by as much as 12%.
"Right now home prices are a falling asset class and have been for five years," said Ritholtz. "That almost becomes a self-fulfilling prophecy."
Housing typically helps lead the way in an economic recovery not only through a surge of construction and the hiring that goes with it, but though demand for goods and services that go into forming a new household.
"The worst thing about a damaged housing market is it freezes all types of economic activity," said Ritholtz.
Baker worries about what kind of overall growth can be achieved if housing continues to suffer.
"Housing has been very important in other recoveries. That's not the story today. It's tough to see what else could take the place," said Baker.
Doug Duncan, chief economist of mortgage finance giant Fannie Mae, is focused on the impact of jobs on housing -- and vice versa.
"Our mantra all along has been employment, employment, employment," Duncan said. "Until you see employment growth and then income growth and then household formation, you don't get to the bottom of this."
Duncan is anxiously awaiting the government's monthly unemployment report on Friday. He said a further slowing in the economy could push back his forecast for when a housing recovery will begin.
On Wednesday, payroll processor ADP showed reported that hiring by businesses ground to a halt in May, raising concerns about the recovery in employment. Economists surveyed by CNNMoney are now forecasting 170,000 jobs were added in May, barely enough to keep up with population growth.