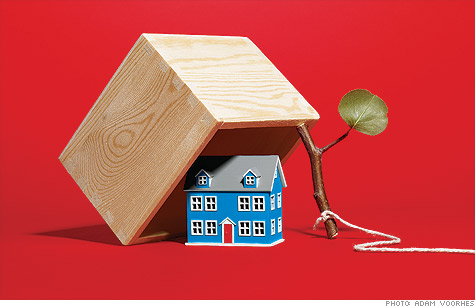 (Money magazine) -- They all but disappeared after the housing bust as homeowners grew fearful of future interest-rate hikes and rates for fixed loans fell to historic lows. But "the fear of the adjustable-rate mortgage has started to settle down," says Steve Habetz, a loan officer in Westport, Conn.
And how. With 30-year fixed-rate loans now inching toward 5%, the number of borrowers taking adjustable-rate mortgages, which typically carry a low fixed rate for one to 10 years and then adjust annually based on current rates, has jumped 75% since last year.
No wonder: Rates for ARMs that reset after five years, the most common variety, were recently a mere 3.69%, vs. 4.99% for a 30-year fixed loan. That's the widest gap since 2003, according to HSH Associates.
Grabbing that ARM could save you $230 on monthly mortgage payments and more than $19,000 in interest during the first five years on a $300,000 loan.
If you're buying or refinancing, it's tempting to save the dough. But you could also get stuck with a payment you can't afford after the rate adjusts. Think it won't happen? Chances are you're basing that assumption on when you think you'll sell and what your salary might look like someday.
Read on to figure out if an ARM is really right for you.
The assumption: I'll move before the fixed term ends.
The pitfall
"People stay in their homes longer than they think," says Doylestown, Pa., financial planner Paula Nangle.
According to the National Association of Realtors, the typical home seller has been in his house for eight years. That's partly because it can take a while to sell.
Anyone a few years from retirement should be especially wary: You could wind up with a payment spike just as you begin living on a fixed income.
The strategy
A three- or five-year ARM makes sense only if you're absolutely certain you're not going to stay -- say, because you've been temporarily relocated by your employer.
When you've got good reason to think you're going to move but aren't sure of the timing -- maybe you're in a starter home but plan to have a large family -- go with a seven-year ARM.
Recently 7/1 loans cost just a third of a percentage point more than 5/1s, which is worth it for the extra security, says Nangle.
The assumption: I'll refinance in a few years.
The pitfall
Rates are going in one direction: up.
The Mortgage Bankers Association predicts that 30-year fixed rates will hit 6% by the fourth quarter of 2012 and climb higher the year after.
Say you took a 5/1 ARM at 3.69% on a $300,000 loan and refinanced to a 6% fixed loan in five years.
You'd pay $86,300 more in interest over the full term of the loan than if you took the 4.99% 30-year fixed loan today.
The strategy
Get a 30-year fixed. True, you've been hearing false warnings about rate hikes for years. But at this point "rates would drop only if economic growth stalled," says Michael Fratantoni, vice president of research and economics for the Mortgage Bankers Association.
Moreover, you might find it hard to refinance if you lost your job, your home value declined, or your lender raised the bar on equity requirements.
The assumption: I'll be earning more money soon.
The pitfall
Your salary may not rise as fast as your loan payment.
The average mid-career professional got a 2.5% raise last year, according to Worldatwork.org. Meanwhile, the rate on most five- and seven-year ARMs can jump five percentage points the first year the payment adjusts.
The strategy
Someone who can be fairly certain of a higher income down the road -- say, a medical resident -- can take the ARM.
Otherwise, buy only a home that you can comfortably afford with a 30-year fixed loan (See the "How much house can I afford" calculator).
"If you need an ARM to manage the loan payments, then buy a smaller home," says Chad Smith, senior vice president of mortgage services at LendingTree.com.
Should you be so lucky as to see a big spike in your income, you can always save the extra dough -- and buy a bigger house later.