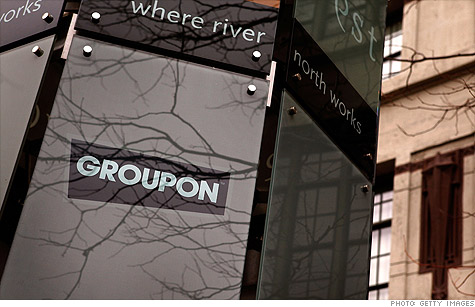 NEW YORK (CNNMoney) -- Groupon filed on Thursday to raise as much as $750 million in an initial public offering, revealing a short history filled with skyrocketing sales and steep losses.
The highly anticipated filing offers the first public look at the finances of one of the tech scene's hottest startups. Founded in 2008, the Chicago company had revenue of $713 million in 2010, up from $30 million in 2009.
That number reflects the face value of the coupons sold, a portion of which gets passed on to the merchants. Groupon's "gross profit" is the amount of revenue it keeps after making those payouts. In 2010, Groupon's gross profit was $280 million.
This year's sales are on track to be even stronger: Groupon revealed in its filing to the SEC that it netted $645 million in sales in the first quarter of 2011 alone, and a gross profit of $270 million.
But Groupon is not yet actually earning money. It lost $413 million in 2010 and lost almost $114 million in the first quarter of 2011.
Groupon plans to trade under the ticker symbol "GRPN," though it did not reveal which exchange will list its shares. The lead underwriters are Morgan Stanley, Goldman Sachs and Credit Suisse.
The company now has more than 8,000 employees worldwide, up from 37 employees two years ago. It also has 83 million subscribers, who purchased 28 million deals from the company last quarter.
But wooing those subscribers is pricey: Groupon spent almost $180 million in the first quarter on online marketing to attract new subscribers.
At a tech conference Wednesday, Groupon CEO Andrew Mason deflected questions about his company's IPO plans.
"I really want to talk about the Groupon IPO," he said in his characteristic deadpan fashion immediately after sauntering onstage. "We still have nothing to announce."
Mason made light of further questioning by the All Things D's Kara Swisher, fixing her with what she described as the "death stare."
He acknowledged that Groupon had spoken to bankers, and indicated that an eventual IPO was likely but gave no indication about how soon it would come.
"I run a business," Mason said. "The business has shareholders who one day want to have money. Going public is a way for shareholders to get money."
Several rounds of venture-capital financing -- including a recent one for an eye-popping $1 billion -- have reduced the Groupon founders' stake in their business. Mason still owns around 8% of the company, while co-founder and board chairman Eric Lefkofsky is the main shareholder with almost 22%.
Other significant stakeholders include venture capital firms New Enterprise Associates and Accel Partners. CityDeal, a European daily-deals rival Groupon acquired last year, owns around 10% of the company.
However, like many tech companies, Groupon has a dual-stock structure that lets the company's insiders retain significant control over shareholder decisions even after others become stockholders. Co-founders Mason, Lefkosky and Bradley Keywell own all of the company's "class b" shares, giving them a majority vote on matters put before shareholders.
Mason collected a salary of $180,000 last year, but he'll take home a lot less in 2011: Groupon said that at his request the board cut his 2011 pay to $575. It's a puzzling number -- typically, a CEO turning down cash would slash his salary to a symbolic $1 -- but knowing Groupon, there's likely a hidden significance to the figure.
The IPO filing was filled with Groupon's typically quirky language: "We are unusual and we like it that way. We want the time people spend with Groupon to be memorable. Life is too short to be a boring company."
Later, the company added: "Expect us to make ambitious bets on our future that distract us from our current business. Some bets we'll get right, and others we'll get wrong, but we think it's the only way to continuously build disruptive products."
The filing comes as investors are once again clamoring to snap up a piece of buzzed-about tech companies.
Shares of business networking site LinkedIn more than doubled in its IPO last month, leaving the site with a $9 billion valuation. Shares of LinkedIn (LNKD) have cooled a bit since then but are still trading well above its $45-per-share IPO price.
Still, LinkedIn's splashy debut seemed to set the stage for other startups to go public. The remaining three of the "big five" private tech companies are Facebook, Twitter and Zynga.