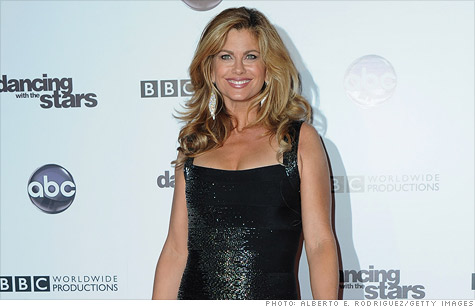 Model entrepreneur Kathy Ireland's latest business venture: wedding dresses.
NEW YORK (CNNMoney) -- Swimsuit model-turned-entrepreneur Kathy Ireland is saying ''I do'' to her latest business venture: wedding dresses.
Her collection, which features more than 1,000 dresses of various styles, came out earlier this year. And as wedding season takes off, Ireland is expecting the line to do well.
That may or may not happen, industry experts said.
The apparel industry is littered with celebrity-endorsed clothing lines that debut like red-carpet premieres only to fade into the depths of bargain-bin status. And the wedding industry is already filled with top-line designers who produce bridal collections with loyal followings.
Ireland, however, said the move into wedding dresses is a natural outgrowth for Kathy Ireland Worldwide, which designs and markets more than 45,000 products, including items brides may need after their wedding, like linens and baby cribs.
Last year, Ireland signed a deal with Mon Cheri Bridals to design the Kathy Ireland Weddings by 2be collection. The collection features various styles, including a lace-sleeved dress that is similar to the one Kate Middleton wore at her wedding to Prince William.
The dresses are now available at more than 200 stores in the United States.
Satisfying a bride is a crucial element to success in the wedding industry, said Ireland.
''You mess it up for her, you're toast,'' she said. ''But if you get it right, you can enjoy a life-long relationship."
Taking on the wedding industry
Ireland's foray into the $70-billion-per-year wedding industry makes sense because brides connect with designer names, said Heather Levine, the senior fashion editor at theknot.com.
''You hear about the Vera Wangs, the Carolina Herreras, the Oscar de la Rentas, because they're such powerful brands,'' said Levine. ''I think Kathy Ireland already has that.''
Ireland has been building her brand since 1993, when she founded Kathy Ireland Worldwide.
Ireland was exposed to entrepreneurship and a good work ethic early in life. Her mother sold Avon cosmetics, cleaned houses, babysat and later went to school to study nursing. Her father worked for a retail clerks union and took the family to rallies with labor leader Cesar Chavez.
As a child, Ireland sold painted rocks and delivered newspapers.
''My dad always said, 'Give 110 percent. The customer expects the paper on the driveway, you put it on the front porch,' '' said Ireland.
She went into modeling at 17 but said she never felt it was her calling. Ireland said she wonders if being a model made some people take her less seriously as an entrepreneur. Still, she's grateful for the experience.
''It exposed me to the best designers in the world, to people of all different cultures," said Ireland. ''But I felt like I was a business person already when I started.''
After much rejection, Kathy Ireland Worldwide's first product was socks, which were sold exclusively by Kmart. When Kmart fell on hard times and declared bankruptcy in 2002, it hurt her business.
She learned that it was not a good business move to have one product with one company.
''We expanded the brand to include a whole line of apparel and accessories, but we quickly learned that it was not good to have one channel of distribution,'' she said.
Hitting the big time
Today, Kathy Ireland Worldwide works with a variety of companies, such as Mon Cheri Bridals and flooring company Shaw Industries, a subsidiary of Berkshire Hathaway, which is owned by Warren Buffett.
Ireland said part of her success is due to her team of 37 employees, many of whom have worked together for more than 20 years. She also does not believe in rushing into any business arrangement. The Mon Cheri Bridals partnership was seven years in the making, she said.
Joyce Lee, the co-owner of Potomac Bridals in Hagerstown, Md., is one of many bridal shops that carries the collection.
''With Kathy Ireland, they have very different, unique looks that kind of appeal to a variety of different brides,'' said Lee. ''There are some lines when you look at them, they put out 10 dresses for a season and all 10 look almost alike.''
Ireland wakes up between 4 a.m. to 5 a.m. in order to get a jump on work. She usually goes to bed around 10 p.m. or 11 p.m., but still pulls all-nighters when needed.
She works closely with creative and marketing director Jon Carrasco and manufacturers to ensure there are no mistakes with product styles or color palettes.
Despite the success of the company, Ireland said she has no plans to take it public anytime soon.
''I think I'm too much of a control freak,'' she said. ''It would be really difficult to give that up.''