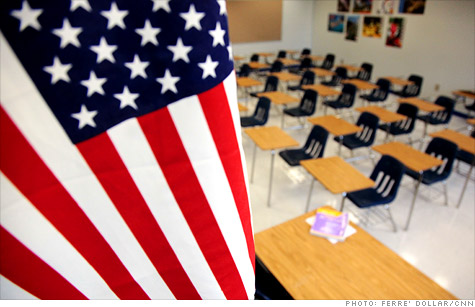 State and local government job losses are expected to soar this summer as teachers are laid off.
NEW YORK (CNNMoney) -- Don't look to state and local governments to prop up the job market.
To the contrary, this cash-strapped sector is set to go on a record-breaking layoff binge when the new fiscal year starts on July 1.
State and local governments are forecast to shed up to 110,000 jobs in the third quarter, the first time the blood-letting has risen into the triple digits, according to IHS Global Insight.
"We're on a downward path," said Greg Daco, principal U.S. economist at IHS. "It's not looking good."
State and local government employment has been a drag on the economy all year, averaging a loss of 23,000 jobs a month over the past three months. Meanwhile, the private sector has created an average of 180,000 a month during the same period.
In May, public employment shrunk by 29,000 jobs, mostly at the state and local level, while businesses created 83,000 jobs, the Labor Department reported Friday. All told, the sector has lost 510,000 positions since its peak in August 2008.
States still cutting
Though tax revenue is starting to rise, states are still wrestling with multi-billion-dollar budget gaps. Federal stimulus funds helped minimize job cuts until now, but that money essentially runs out on June 30.
So states are planning to slash funds for education, social services and local governments, as well as downsize their payrolls even more, in the coming fiscal year.
And that's the good news.
The bad news is that local governments are in even worse shape. Not only are they losing state aid, but they are finally feeling the fallout from the mortgage meltdown. Property tax assessments, a major funding source for municipalities, have only started to drop.
Caught in a fiscal bind, local governments will have to reduce personnel expenses since it is the costliest part of their budgets and they've already slashed their programs and services.
"We're at the tip of the iceberg," said Christiana McFarland, the National League of Cities' program director for finance and economic development. Cities "don't have many options at this point."
Teachers and school staff will bear the brunt of the layoffs this summer, as hundreds of thousands will likely be laid off around the nation. The national job numbers should reflect the hit in July and September.
It's not uncommon for state and local governments to take longer to emerge from a recession. But usually by then, businesses have ramped up their hiring. This time around, private sector hiring has remained soft, making government cutbacks that much more painful.
And it will likely take at least a year before the state and local government job market revives, economists said. Until then, they are waiting to see the extent of the downsizing.
"The only question is 'how much worse?," said Dean Baker, co-director of the Center for Economic and Policy Research.