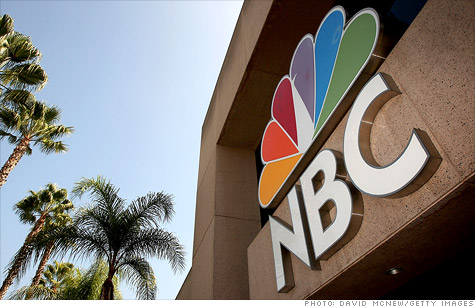 NEW YORK (CNNMoney) -- The Peacock is shelling out a whopping $4.38 billion for the rights to broadcast the Olympic Games through 2020.
The International Olympic Committee announced Tuesday that it has awarded U.S. broadcast rights to NBCUniversal for the 2014 Winter Games in Sochi, Russia and 2016 Summer Games in Rio de Janeiro, Brazil.
NBC will also broadcast the 2018 and 2020 Olympic Games from cities yet to be determined. The 2018 Winter Games will be awarded next month at a committee meeting in Durban, South Africa.
The deal, valued at $4.38 billion, cuts across all media platforms, including free-to-air television, subscription television, Internet and mobile. NBC outbid rivals ESPN and Fox for the rights.
"We are delighted to have reached an agreement with our longstanding partner NBCU," said IOC President Jacques Rogge. "We received three excellent bids and would like to thank each broadcaster for their presentations. In the end, we were most impressed with NBCU."
By the time 2020 rolls around, NBC will have broadcast a total of 17 editions of the Games, beginning in 1964. They don't always turn a profit.
The most recent broadcast from Vancouver, in 2010, resulted in a loss of almost $200 million.
The future of NBC's Olympic broadcast were thrown into doubt in May when Dick Ebersol resigned as chairman of the network's sports group after 22 years.
Ebersol was best known for overseeing NBC's coverage of the Olympic Games. After producing coverage of the 1992 Barcelona Olympics, he then secured the rights to broadcast every Summer Games since, including next year's London Olympics.
In addition, the winning bid from NBC is the network's first since cable company Comcast (CMCSA, Fortune 500) and industrial conglomerate General Electric finalized a deal to merge Comcast's cable networks with GE's NBC Universal entertainment unit.
Comcast CEO Brian Roberts said in a statement he was excited by NBC's continued involvement.
"We are honored to continue as the U.S. Olympic broadcaster for the remainder of this decade. The vision for our new Comcast-NBCUniversal was to create new platforms and technologies to distribute the very best content," he said.