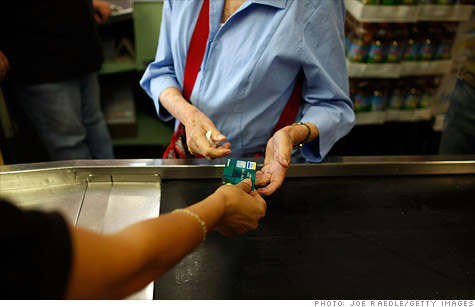 The Senate failed to approve a measure delaying implementation of lower swipe fees that retailers pay banks when customers use debit cards.
WASHINGTON (CNNMoney) -- Despite intense pressure from banks, the Senate failed Wednesday to delay rules capping fees that banks charge retailers to process debit card transactions by consumers.
While the vote was 54 to 45 in favor, 60 votes were need to approve the measure. The legislation would have pushed back by a year the July 21 deadline by which the Federal Reserve must cap so-called "interchange" or "swipe" fees at 12 cents per transaction, down from an average of 44 cents now. Such a move could cost the banking industry more than $13 billion.
Credit card stocks tumbled on the vote. Visa (V, Fortune 500) and MasterCard (MA, Fortune 500) each fell about 4%.
Democrat Jon Tester and Republican Bob Corker pushed to get the banks a reprieve from the swipe fee caps, demanding that regulators study the issue. If the study found that small banks and credit unions would be hurt by the caps, the Federal Reserve would have to rework its formula.
The fight pitted big banks, ranging from JPMorgan Chase (JPM, Fortune 500) and small credit unions, against retailers such as Wal-Mart (WMT, Fortune 500) and mom-and-pop convenience stores. The Senate ultimately sided with the retailers.
Both sides of the swipe fee battle have spent tens of millions of dollars lobbying and advertising and claim to looking out for consumers' pocketbooks.
For example, banks have taken steps to curtail customer reward programs and some are even threatening spending limits on debit cards, saying the new Fed crackdown leaves them no choice.
Retailers claim that the swipe fees, now ranging around 1% of every purchase, are hurting small businesses. Some say they're forced to pass on the cost of the swipe fees to consumers.
The failure to delay marks a victory for Durbin, the No. 2 Democrat in the Senate, who has been fighting to cap these swipe fees for years.
The Independent Community Bankers of America said the failure to delay the reduced fees will mean curtailed services for its customers.
"It is especially harmful to those millions of consumers of modest means who will now see their fees increase and may disenfranchise those who need banking services the most," the bankers said in a statement.
-- Fortune's Colin Barr contributed to this story.