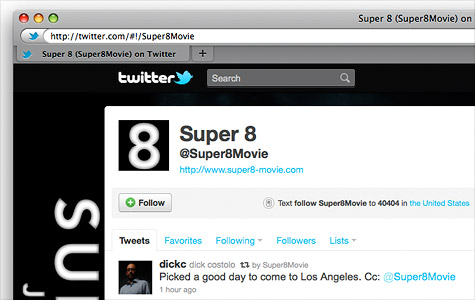 Twitter CEO Dick Costolo joined the buzz hyping the upcoming movie "Super 8."
NEW YORK (CNNMoney) -- "Super 8" has much buzz ahead of its release, thanks to the big names behind it: writer/producer J.J. Abrams and producer Steven Spielberg. The hype factor increased even more Wednesday, when Paramount Pictures began advertising on Twitter about a one-day-early sneak preview of the film.
The sci-fi flick officially opens on Friday, but more than 300 theaters in the U.S. and Canada will show a sneak preview on Thursday, including 239 IMAX locations.
Paramount, a unit of Viacom (VIA), is using the hashtag #Super8Secret to promote the sneak peek via Twitter. The studio also purchased the tag as a promoted tweet, which means #Super8Secret appears on the Twitter homepage. It's the first time Twitter has run a sneak-preview movie campaign.
"Twitter is how we hear about new movies and share our tiny reviews before the credits finish rolling," Twitter co-founder Biz Stone said in a written statement. "Creating more excitement about the film with sneak previews and free popcorn is a smart way to make this film a global conversation even before it's released.
Back in March, Paramount released the first "Super 8" trailer via Twitter. Details about the movie have been scarce -- as is traditional with Abrams, of "Lost," "Star Trek" and "Cloverfield" fame.
Paramount has revealed a few plot points: Set in 1979, the movie focuses on a group of friends are making a super 8 film in small-town Ohio when they witness a major train crash. They soon suspect the disaster wasn't an accident, and strange events begin to occur in town. A local deputy investigates and finds "something more terrifying than any of them could have imagined."
Those interested in tickets for the clunkily named "Tweet Movie Sneak Preview" on June 9 can buy them at http://www.super8-movie.com/sneak/.