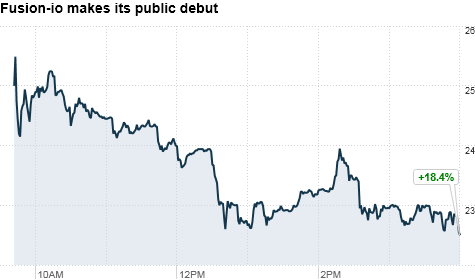 Click the chart for more on Fusion-io.
NEW YORK (CNNMoney) -- Shares of Fusion-io, which makes data storage systems for large tech companies like Facebook, surged 18% in their public debut Thursday.
The company had priced its initial public offering late Wednesday at $19 a share -- above its previously announced range of $16 to $18 a share.
Fusion-io (FIO) stock opened Thursday on the New York Stock Exchange at $25 a share and surged as high as $33 before ending the trading session at $22.50.
Fusion-io sold 10.8 million shares, while shareholders put up 1.5 million. In total, the company raised $233.7 million through the IPO.
Fusion-io, founded in 2007 and based in Salt Lake City, makes flash memory products that are meant to make data centers more efficient. The products use less space and energy, which means fewer servers and a cooler data center.
Apple (AAPL, Fortune 500) co-founder Steve Wozniak is the company's chief scientist.
The company has raised more than $111 million in funding from big-name VC firms including New Enterprise Associates, Lightspeed Venture Partners and Andreessen Horowitz.
Unprofitable: Fusion-io logged $36.2 million in sales in its fiscal year 2010 ended June 30, but it also posted a loss of $31.7 million.
Facebook is Fusion-io's largest customer, accounting for 52% of revenue in the quarter ended March 31. But the company expects sales to Facebook will "decline significantly" in the current quarter.
The deal's underwriters are Goldman Sachs, Morgan Stanley, JP Morgan and Credit Suisse. They will have an option to buy about 1.85 million shares.
Fusion-io has 77.8 million shares outstanding after the offering.
Tech IPO market keeps heating up: Fusion-io is the latest company to go public in what's been a busy 2011 market. Like Fusion-io, other companies have been able to attract investor interest despite a history of red ink.
LinkedIn, which went public last month, revealed that it earned just $15 million in 2010. Prior to that, LinkedIn was in the red every year since its 2003 inception -- except for a slight profit in 2006.
LinkedIn (LNKD) shares more than doubled in its debut, leaving the site with a $9 billion valuation. Trading has leveled off a bit since then, but shares are still going for well above LinkedIn's $45 IPO price.
Groupon's river of red ink is even deeper. Groupon filed for its IPO last week, revealing that it lost $413 million in 2010 and lost almost $114 million in the first quarter of 2011.
Also last week, Pandora signaled that it is nearing its debut, announcing a target price range of $7 to $9 per share price. The company brought in record revenue of $43 million during the first quarter, but it lost $6.7 million. Pandora has yet to turn a profit.
Zynga, maker of the -Ville game franchise, is preparing for an initial public offering, according to those with knowledge of the company's plans.