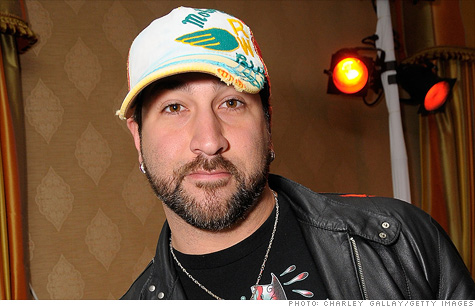 Joey Fatone estate sale features everything from his Brita water filter to his sheets.
NEW YORK (CNNMoney) -- "I have too much shit," is what Joey Fatone said when asked why he's holding a massive estate sale this weekend.
The former member of *Nsync -- one of the most famous boy bands of all time -- is selling off the entire contents of his Orlando, Fla. home. But alas there's no *Nsync memorabilia up for grabs.
The lakefront house itself is also for sale for $3.9 million. Fatone and his family are downsizing from 16,000 square feet to a smaller house in the Orlando area, according to his manager Joe Mulvihill. (More famous homes for sale)
When Fatone packed up his belongings, the contents of his house filled three semi-trucks, Mulvihill said, so Fatone organized a sale to unload many of their things. Many items have also been donated to local charities.
At the start of the sale on Thursday, over 700 people arrived, Mulvihill said. Items for sale range from a Brita water filter and used sheets to a $70,000 armoire. Also available are wine glasses, stuffed animals, arcade games and Christmas ornaments. One notable piece for sale is the sword of omens from the movie Thundercats.
Since *Nsync disbanded, Fatone has hosted NBC's reality singing competition called "The Singing Bee," and appeared as a contestant on ABC's "Dancing With The Stars" among other projects.
He plans to be bi-coastal going forward, Mulvihill said, spitting his time between Florida and Los Angeles.