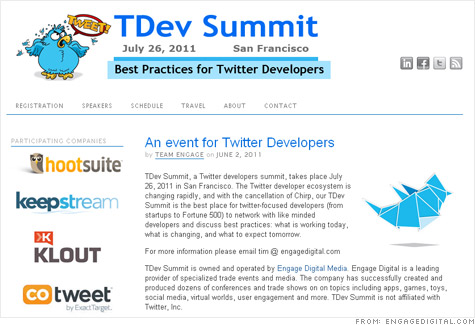 NEW YORK (CNNMoney) -- Twitter will forgo its annual developer's conference, Chirp, this year -- so developers are staging their own unofficial, rogue Twitter summit in July.
The conference, hosted by trade show organizer Engage Digital, is backed by a number of key application developers in the Twitter ecosystem, including the makers of social media dashboard HootSuite, curation tool Storify and analytics service Klout.
As Twitter has evolved, so has the role developers play in building atop the fast-growing platform. It's been a rocky journey: Twitter irked many developers earlier this year when it told them to stop developing clients to improve the "mainstream consumer" Twitter experience. Last month Twitter acquired TweetDeck, the most popular of those third-party clients.
That left many developers with questions about their role in Twitter's network.
Engage decided to create the event to bring together those discussions, according to Tim Williams, the company's vice president of marketing.
"With all the recent changes in the platform, developers want to understand where the platform is going," he said.
Bottlenose CEO Nova Spivack, who plans to attend, expects that developers will be discussing their role in Twitter's evolving ecosystem.
"There's a question on the minds of many developers about Twitter's commitment to its development community, and particularly, what's safe to develop now," said Spivack, who is building a Twitter personalization tool. "It's hard to believe that Twitter won't just pull the rug out from under you."
Just recently, Twitter announced a built-in photo sharing feature that put the service in competition with one of its prominent third-party developers, Twitpic.
"We've had a good relationship with Twitter from the beginning. However, we had no idea Twitter was building a photo feature," Twitpic creator Noah Everett said after Twitter announced its plans. "Communication between developers and Twitter has never been very clear, and the relationship between Twitter and its developers has changed a lot since the Chirp conference last year."
Hootsuite CEO Ryan Holmes says it was inevitable that Twitter would develop competitive products as it matured. He thinks more changes are ahead.
"The pieces that we're seeing them getting involved in are fundamental, core pieces of their business they need to manage," he said. "Once the dust settles, the lines will be redrawn."
That's a discussion Twitter itself should be leading. But this year the company decided to scrap its main annual gathering, Chirp, in favor of a series of "small, town hall-style events," according to a company spokeswoman.
Twitter held the first of those in May at its San Francisco headquarters, and held a second one this week targeting attendees at Apple's World Wide Developer Conference. Twitter's goal is to "give developers more frequent opportunities to get to know the Twitter team personally [and] meet cool companies in the ecosystem," a company representative said.
As for Engage's gathering, Twitter platform head Ryan Sarver blasted off a tweet expressing the company's view: "To be clear, Twitter is in no way involved with the 'Twitter Developer Summit,'" he wrote.
Some Twitter developers like the more personalized approach.
"They do a much better job of servicing us," said Joe Fernandez, CEO of Klout, a company that uses Twitter and Facebook to measure social influence. "One guy would help you -- now, they've got a whole team. They're much easier to deal with if you're someone who's adding value to the ecosystem."
But Bottlenose's Spivack thinks Twitter needs to go beyond one-on-one conversations.
"I think Twitter should come," he said of the Engage gathering. "If they're not there, that will speak louder than words. I don't think Twitter has bad intentions -- I think they're experiencing some growing pains and typical pivots and changes of a growing company. But it's taking its toll on the development community."