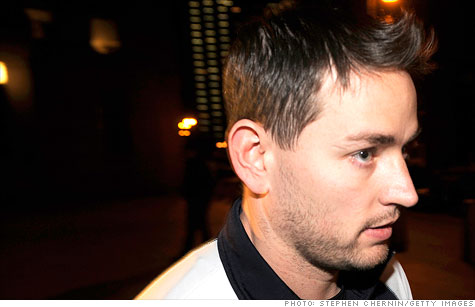 Zvi Goffer, shown here in a 2009 photo, was convicted of insider trading in New York City on Monday.
NEW YORK (CNNMoney) -- A jury convicted three more people in the insider trading case that centered on the Galleon Group hedge fund, according to the U.S. district attorney of the Southern District of New York on Monday.
Former trader Zvi Goffer, 34, was convicted on two counts of conspiracy to commit securities fraud and 12 counts of securities fraud, according to U.S. district attorney Preet Bharara in Manhattan.
His co-defendants, Emanuel Goffer, 32, and Michael Kimelman, 40, were each convicted of one count of conspiracy to commit securities fraud and two counts of securities fraud, according to the district attorney. (Insider trading crackdown nabs 40)
"With today's guilty verdicts, each and every one of the defendants originally arrested in the Galleon insider trading investigation now stands convicted," said Bharara, in a press release.
Zvi Goffer had obtained inside information about the acquisitions of 3Com and Axcan Pharma, Inc., among other companies, netting him millions in illicit profits.
The three ex-traders all worked at Incremental Capital. The Goffers, who are brothers, also worked at Spectrum Trading LLC. The district attorney said they were part of a ring in which Zvi Goffer paid sources for inside information about mergers and acquisitions of publicly-traded companies, earning millions of dollars in illegal profits.
One of their sources, Craig Drimal, worked in the office of the now defunct Galleon Group, which was founded by Raj Rajaratnam, the biggest prize in the federal prosecutors' inside trading crackdown that has netted more than 40 convictions since 2009. Rajaratnam was found guilty last month on 14 counts of securities fraud and conspiracy.
Zvi Goffer's defense attorneys, William Barzee and David Pettus, were not immediately available by phone, nor was Michael Kimelman's law firm. Michael Ross, attorney for Emanuel Goffer, declined to comment.
The insider trading occurred from 2007 to 2009, according to the district attorney. Each count of securities fraud, the most serious crime in this case, carries a sentence of up to 20 years. It also carries a fine of $250,000 "or twice the gross gain or loss from the offense," according to the district attorney.
Zvi Goffer is scheduled for sentencing on Sept. 21. His co-defendants will be sentenced on Oct. 7.