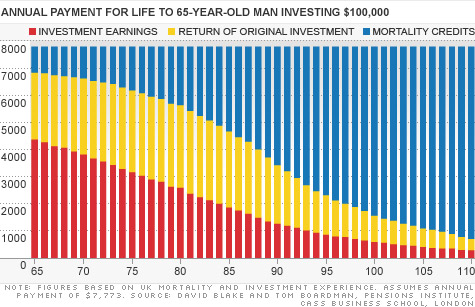 Immediate annuities can pay more lifetime income than other investments because of "mortality credits," or a transfer of money from those who die early to those who die later.
NEW YORK (Money) -- Now that I'm about 10 years away from retirement, I'd love to understand annuities better and learn which, if any, would be best for me? -- Alan Mina, Powell, Ohio
I'm glad you've given yourself plenty of time for research because annuities come in so many varieties with so many twists and features that they can be mind-numbingly confusing.
Plus, most have such oppressive fees and other downsides that the more you get to know them, the less you'll want invest in them.
But there's one type that's relatively straightforward (at least for the annuity world) and that may be worth considering if you decide you need more assured income in retirement than Social Security and any pensions you might have will provide.
The kind I'm talking about is an immediate annuity, aka an income annuity. Basically, you give a lump sum to an insurer -- or, more likely to an investment firm or adviser who sells annuities for insurers -- and in return you receive monthly checks for the rest of your life.
The amount you get depends primarily on your age and the current level of interest rates. Recently, a 65-year-old man investing $100,000 could have gotten roughly $640 a month for life.
If you choose a "survivor" option, the payments will keep coming as long as you or your spouse is alive, although the checks will be smaller. (For a current payout quote, click here.)
Aside from guaranteeing income for life -- which no other investment can do -- annuities have another advantage: They can generate a higher level of sustainable income than any other investment earning the same return.
How, you may ask, is that possible? Well, some people who buy annuities will die before life expectancy, while others will live longer.
That allows insurers to build into their annuity payouts extra payments known in insurance circles as a "mortality credits." "The insurer is essentially passing along money that would have gone to the people who die early to those who are still alive," says David Blake, director of the Pensions Institute at the Cass Business School in London. "That amounts to an additional return."
The longer you live, the more of those "mortality credits" you get. (See the graphic above).
Of course, if you die soon after buying an immediate annuity, you'll be the one supplying a higher income to longer-lived retirees. But even if you're unfortunate enough for that to happen, it doesn't mean the annuity was a bad deal any more than buying homeowners insurance was a mistake because your house never burned down. The point is to insure against the possibility of outliving your dough.
Now for the downside. Once you hand over, say, a hundred grand or more for an immediate annuity you've largely given up access to that money, so it's not available for emergencies or to pass down to heirs. (Some annuities will guarantee that you or your heirs will receive at least as much as you invested, but you'll get less income and dilute the insurance value of the annuity.)
So even if you do decide an immediate annuity makes sense for you, you don't want to put all your money in one. You want to leave enough assets in stocks, bonds and cash, not just for unexpected income needs, but to maintain your purchasing power in the face of inflation.
You'll also want to compare quotes from several insurers, as payments can easily vary by 10% or more. You should also consider buying in stages, so you don't invest all your money when interest rates are at a low.
And since you'll be depending on the financial wherewithal of the insurer to make those lifetime payments, you'll want to stick to annuities issued by insurers that are rated highly by firms like Standard & Poor's and A.M. Best.
For extra safety, you can spread however much you plan to invest among two or three such insurers and also take care that the amount you invest with any single company doesn't exceed the coverage limit of the life insurance guaranty association in your state.
Believe it or not, I've sketched out only the basics here, but can get more details in the Annuities section of our Ultimate Guide To Retirement. You won't need 10 years to peruse this material. But better to get started sooner rather than later.

Got a burning question about personal finance? Get your answer from MONEY magazine's Help Desk. Submit your personal finance question here -- whether it's about saving, investing, real estate, banking & credit, taxes, retirement, or college planning. We'll tackle anything and everything related to individuals' and families' finances.