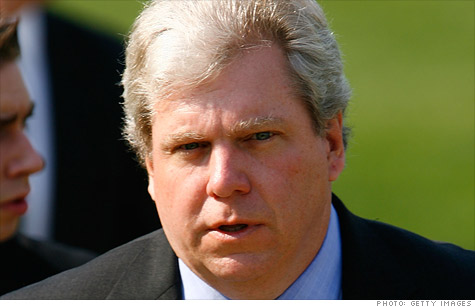 Joe Lockhart, President Clinton's former spokesman, is joining Facebook.
NEW YORK (CNNMoney) -- Former White House press secretary Joe Lockhart is joining Facebook as its vice president of global communications, the company announced late Tuesday.
Lockhart, who ran the White House press office during President Bill Clinton's second term, will be in charge of Facebook's corporate, policy and international communications teams. He will report to Elliot Schrage, Facebook's communications chief.
"Joe's arrival brings new skills and greater depth to our incredibly busy team," Schrage said in a written statement. "His experience building and running a press office at the White House gives him particular appreciation for the demands of a global 24-hour news cycle and the challenges of responding effectively to intense scrutiny."
Lockhart plans to relocate from Washington, D.C., to work at Facebook's headquarters in Menlo Park, Calif.
A former broadcast journalist who worked at CNN, NBC News and Sky Television of London, Lockhart founded the his own communications firm, the Glover Park Group, after leaving the White House.
Facebook has been seeking a Washington heavy hitter for its communications team. In March it was rumored to be in discussions with Robert Gibbs, Obama's former press secretary, about a job with the company.