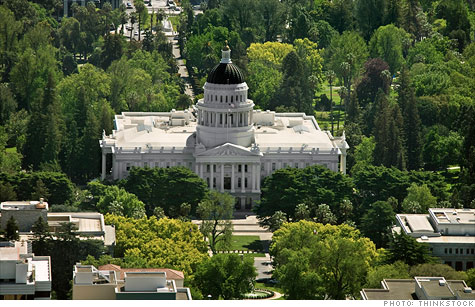 California lawmakers pass a budget that doesn't extend tax hikes, but cuts funds for education.
NEW YORK (CNNMoney) -- California lawmakers passed a balanced budget Wednesday that relies on spending cuts, fund transfers and one-time revenue boosts, but allows them to keep collecting their paychecks.
The budget now goes to Governor Jerry Brown, who has said for months that he wanted to present Californians with a gimmick-free budget that would solve the state's $26 billion deficit with a combination of tax extensions and spending cuts.
It's unclear whether Brown will approve the budget, which he will have 12 days to consider. At a press conference Monday, he opened the door to signing a budget without continuing the temporary tax hikes passed in 2009.
"I'm going to take a good, hard look at it," Brown said, adding, "we'll see what happens" when lawmakers unveil their budget plan.
A balanced budget has eluded California so far this year, as Brown battled with Republican lawmakers over extending several tax hikes imposed in 2009. The governor, a Democrat, has wanted voters to decide whether to maintain the personal income and sales tax increases, but Republicans have refused to approve putting the measure on the ballot.
So instead, Democratic legislative leaders drew up a plan that eliminates the tax extension and relies on a mix of cuts and other revenue measures. Because the budget proposal doesn't include a tax component, lawmakers only needed a majority to approve it, rather than two-thirds. Democrats control both houses.
The budget is "far from a perfect solution," but it fulfills lawmakers' obligation to voters, said Mark Hedlund, spokesman for Senate President Pro Tem Darrell Steinberg.
"We cut very deeply, but avoided an "all cuts" budget that would absolutely devastate public safety, public schools and higher education," he said.
Had they not passed the budget Wednesday, lawmakers would have forfeited their pay starting the next day. This deadline was imposed by voters last November.
The budget would send $3 billion less to schools and delay the repayment of $744 million that the state borrowed from school districts. It also depends on tax revenues coming in higher than originally forecast, as they have been doing.
And the state's universities would see another $300 million cut in funding, while the courts would get $150 million less.
The proposal also relies on revenue shifts and one-time maneuvers. For instance, it calls for shifting some motor vehicle fees to the state general fund, while raising registration fees by $12 to support the state Department of Motor Vehicles. And it takes $1 billion from a fund dedicated to early childhood development.
The budget plan would resurrect the sale of $1.2 billion of public buildings, which Brown called off earlier this year. And it would add a quarter percentage point to the local sales tax, which Democrats do not believe requires a two-thirds vote since it doesn't raise revenues for the state.
It would extend the sales levy to online retailers, such as Amazon.com (AMZN, Fortune 500), which would bring in an estimated $200 million.
Lawmakers did their best to minimize the cuts to education, said John Vigna, spokesman for Assembly Speaker John Perez. However, they had little choice without being able to raise revenues.
"It's going to hurt a lot of people," said Vigna, adding legislative leaders worked closely with the governor on the proposal. "This budget is the best one we could get with the options on the table."
Republicans, meanwhile, blasted their counterparts' passage of the budget, saying they will continue to fight for reforms that will spur economic growth and job creation.
"This Democrat budget is an irresponsible package that has no real pension reform, no hard spending cap, no plan to put people back to work and no change to government as usual," said Senate Republican Leader Bob Dutton. "It clearly demonstrates that legislative Democrats would rather pander to their special interest allies, than adopt the long-term budget solutions that Californians demand and deserve."
The path to a balanced budget has taken many turns since Brown unveiled a plan in January to close the state's massive shortfall by extending expiring personal income and sales tax for five years and cutting spending. He also insisted on fulfilling a campaign pledge to put the tax extension before the voters.
Two months later, the legislature approved several measures that closed $14 billion of the gap. Then, the Golden State learned in early May that tax revenues were coming in $2.5 billion higher than forecast.
Brown released a revised budget in mid May that reduced the amount the state needed to raise in taxes and to cut in spending. But Republican lawmakers refused to put the measure on the ballot without securing a spending cap and pension and regulatory reforms.