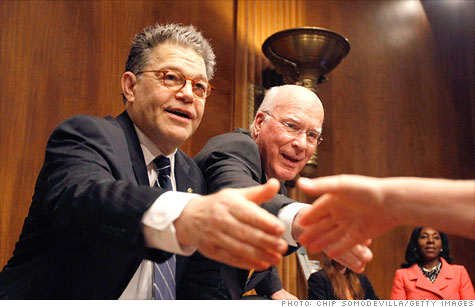 Sen. Al Franken has been grilling execs from Apple and Google about location data privacy.
NEW YORK (CNNMoney) -- Two senators proposed a mobile privacy bill on Wednesday, in response to a furor over the news that Apple and Google devices can track and store users' location information.
The so-called "Locationgate" kicked off in April, after two British researchers released an open source application that let Apple's (AAPL, Fortune 500) customers see the location data stored on their iPhones and 3G iPads. The brouhaha soon expanded to include Google (GOOG, Fortune 500).
The bill introduced Wednesday would require device makers and app developers "to receive express consent" from mobile users "before collecting or sharing information about those users' location with third parties."
Sen. Al Franken, D-Minn., and Sen. Richard Blumenthal, D-Conn., co-sponsored the bill, which is called the Location Privacy Protection Act of 2011.
The lawmakers said the bill "would close loopholes in current federal law to ensure that consumers know what location information is being collected ... and allow them to decide if they want to share it."
Franken acknowledged that location data can be useful, "but the same information that allows emergency responders to locate us when we're in trouble is not necessarily information all of us want to share with the rest of the world.
Franken has already grilled tech executives on privacy issues, in his capacity as the chairman of the Senate Judiciary Subcommittee on Privacy, Technology, and the Law.
Last month Franken held a hearing to ask questions of Alan Davidson, Google's director of public policy, and Guy L. "Bud" Tribble, an Apple vice president.
At the hearing, both companies defended their data collection practices and pointed out that they can't control what third-party app makers do.
Apple's Tribble said the information tracked by Apple's iPhones is not the user's specific location, but rather the locations of the Wi-Fi network routers and cell towers around the device.
That data is used to locate users if GPS is unavailable, and to more quickly locate a GPS signal when one is around -- information that's crucial for maps and many other smartphone apps.
Franken responded dryly: "I find that confusing."
Google's Davidson reiterated at the hearing that Android devices collect location data, but only with users' consent. Any location data that is sent back to Google location servers is not tied or traceable to a specific user.
While Apple and Google have been in the limelight, wireless carriers are facing their own barrage of questions. In April, Verizon Wireless (WZ) said it would start slapping 'we can track you!' warning stickers on its products.