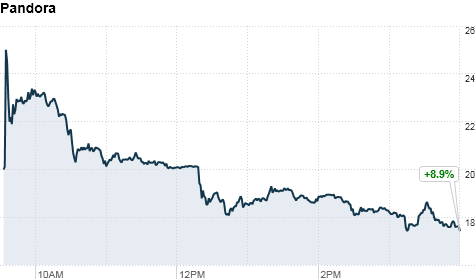 Click the chart for more on Pandora's stock.
NEW YORK (CNNMoney) -- Shares of Pandora quickly spiked on Wednesday in its public debut, but the stock lost the majority of its gains by the time the market closed.
The Internet radio company started trading at $20 per share on Wednesday, above the company's IPO price of $16. The stock immediately jumped as high as $26 a share, an increase of about 63%.
But shares cooled quickly, and they lost much of their gains as the day progressed. The stock dipped to a low of $17.35, and it closed near that point -- at $17.42. That's 8.9% above the initial price, and it left Pandora (P) with a market capitalization of $2.6 billion.
"However you cut it, Pandora had a very successful IPO," said Tony Wible, analyst at Janney Capital Markets. "It's pricing above the target range, there is demand for its currency, and Pandora now has cheap access to capital."
Pandora has never turned a profit, and the company said it expects to continue losing money "through at least fiscal 2012." In its updated filing Tuesday, Pandora said it lost $6.8 million on revenue of $51 million in its first fiscal quarter, which ended April 30.
CEO Joe Kennedy defended Pandora's business model in an interview with CNN midday Wednesday on the trading floor.
Kennedy said Pandora's model is "a lot like radio historically." The company generates revenue from the two options it offers listeners: A free, ad-supported stream or a "premium" plan priced at $36 per year, which offers higher audio quality and no ads.
Kennedy shrugged off the idea that Pandora is riding the hype of a buzzy tech IPO season.
"In truth, an IPO is planned months and months in advance," Kennedy said. "We had no idea what the market reaction would be like."
As with other tech IPOs this year, investors seem to be shrugging off Pandora's history of red ink.
Tech companies began racing to go public after LinkedIn's (LNKD) shares more than doubled in its IPO last month, giving the site an initial $9 billion valuation. That's despite the fact the company only turned slight profits in 2010 and 2006, and has otherwise has been in the red every year since its 2003 inception.
Shares of Fusion-io (FIO), which makes storage systems for data-heavy tech companies such as Facebook, surged 18% in their public debut last week. The company lost almost $32 million in its last fiscal year.
Groupon's river of red ink is even deeper. The daily deals site filed for its IPO earlier this month, revealing that it lost $413 million in 2010 and lost almost $114 million in the first quarter of 2011.
"There is scarcity value in social media IPOs, which is why many are getting fairly lofty valuation multiples," said Wible. "These companies are making money from momentum and not fundamentals, at least initially."
Though Pandora didn't quite make the splash that LinkedIn made in its IPO, that's likely a signal that its IPO was priced more in-line with investors' demand, Wible said.
Pandora is trading on the New York Stock Exchange under the ticker symbol "P." Founded in 2000 as the Music Genome Project, the site uses algorithms and user feedback to generate music recommendations for its listeners.
Pandora filed to go public in February. At the time, the company expected to raise $100 million. On June 2, Pandora set a target price range of $7 to $9 per share -- then upped it to $10 to $12 per share last week.
Its audience numbers are strong. As of April, Pandora had 90 million registered members, up from 80 million in February. Those members racked up 3.8 billion hours of listening to Pandora's song stream at the end of the 2011 fiscal year.
But as its audience grows, so does its biggest cost: the royalties it pays for the music it streams. Pandora's filing said its current rates for royalty payments are good until 2015, after which it will need to renegotiate.
"There is no guarantee that the [new] rates ... will allow us to reach sustained profitability," the filing added.