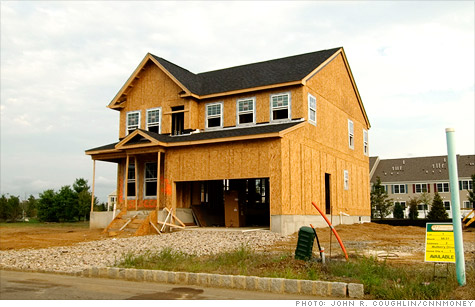 NEW YORK (CNNMoney) -- Permits for housing construction climbed in May, signaling a glimmer of optimism among homebuilders about the future of the housing market.
The number of permits for future housing construction jumped to a seasonally adjusted annual rate of 612,000 last month, up 8.7% from the revised rate of 563,000 in April, the Commerce Department said.
It was the highest monthly rate since December and was much higher than expected, with economists surveyed by Briefing.com looking for a 548,000 permit rate.
Permits for single-family homes, viewed as a more stable indicator of new homebuilding activity than permits for multi-family home construction, ticked up 2.5% from April to a rate of 405,000.
While permits are typically viewed as an indication of builders' confidence in the housing market, the big jump in permits could have had a lot to do with seasonality, even allowing for the government's adjustment, said Doug Roberts, chief investment strategist for Channel Capital Research.
Roberts said that this is the prime time of year to begin construction, given the better weather. And given the flooding and bad weather in April, many builders may have gotten off to a late start -- leading to a jump in permits and housing starts last month.
"These are the months where the most construction occurs, so this increase could be more of a seasonal blip," he said. "We'll have to see if we gain some traction after the next few months -- but for now, it's not like we're at the beginning of a new housing boom."
But an increase in cofidence also likely played a part in the positive report, said Roberts.
Though the housing market remains weak, it began stabilizing when the Federal Reserve introduced quantitative easing measures, aimed to help stimulate the economy. But Roberts said the combination of the Federal Reserve's stimulus program ending this month and the glut of homes still on the market may make it a rough second half of the year for homebuilders.
"The market is stabilizing," he said. "But it's like when you stabilize a patient after an auto accident -- it doesn't look like he's going to die, but in terms of doing marathons, he's got a long way to go."
Housing starts, the number of new homes being built, rose 3.5% in May to an annual rate of 560,000 units from a revised 541,000 in April, the Commerce Department said.
Economists had expected an annual rate of 540,000 units, according to consensus estimates from Briefing.com.
Construction of single-family homes rose 3.7% to a rate of 419,000.