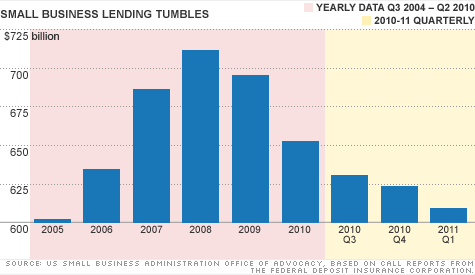 NEW YORK (CNNMoney) -- Bank lending to small businesses fell $15 billion in the first quarter of this year, according to a report released this week from the U.S. Small Business Administration's Office of Advocacy.
The report shows that small business lending has declined steadily during the last three quarters. The SBA report also found that lending has fallen on a yearly basis since hitting its peak in 2008.
The total amount of small business loans outstanding in March of 2011 decreased 2.4%, or $14.9 billion, to $609.4 billion at the end of 2010, the report said. This is more than twice the $6.2 billion drop between the third and fourth quarter of last year.
Outstanding loans to small businesses surged in 2008 to $711.5 billion, but when the recession started shortly after, small business lending plummeted.
Banks began to tighten their lending standards, and small businesses were less willing to take on more debt.
As the recession continued, banks sat on cash and lending to small businesses sank in 2009 and 2010. The pain of the credit crunch dragged on for small businesses even as larger businesses started to gain easier access to loans.
Small business lending among biggest banks declines the most: During the recession, the nation's largest banks pulled back on lending to small businesses much more quickly than they did on their other lending.
These big banks came under intense political pressure to resume lending to small businesses, especially in the wake of receiving billions of dollars of bailout money.
Nevertheless, lending to small businesses by the biggest banks is still lagging, the report shows.
Outstanding small business loans by the largest lenders, defined as having assets of $50 billion or more, decreased 4.9% in the first quarter of 2011.
Meanwhile, mid-sized banks, with assets between $10 billion and $49 billion, increased their lending by 3.1%. And the nation's smallest banks, with assets between $1 billion and $9 billion, kept their outstanding levels of loans to small business steady.
Is it the banks or the businesses? It is difficult to know why lending to small businesses continues to drag.
Recently, banks have been loosening their lending standards for small businesses, said Victoria Williams, economist with the SBA Office of Advocacy.
Williams pointed to the Federal Reserve's Survey of Senior Loan Officers, which shows that for the last year or so, standards on loans to small firms have been easing.
Lending could be down because small business owners are not asking for loans, she said. They could be working on paying down existing debt and not taking on more, she added.
The notable lack of data for small business lending, however, makes it hard to say exactly whether the banks are not lending or small businesses are not borrowing, said George Haynes, a professor in the Department of Agricultural Economics and Economics at Montana State University.
But ''at the end of the day, there is less money that is being loaned out to the small business,'' he said.
The SBA Office of Advocacy now breaks out lending data on a quarterly basis. Previously, it only broke out lending data annually.
For this study, it drew on data reported to the Federal Deposit Insurance Corp., which tracks lending by the banks it regulates. Both the SBA and FDIC assume that all commercial loans of $1 million or less went to a small business.