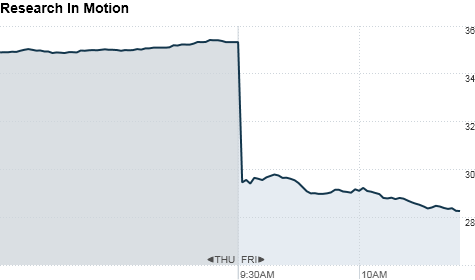 NEW YORK (CNNMoney) -- BlackBerry maker Research In Motion believes its white knight is coming. But while it waits, the company is drastically lowering its financial outlook and handing out pink slips.
Very disappointing sales of BlackBerry smartphones and tablets during the last quarter led RIM to cut its full-year profit expectations by 30% Thursday. The Waterloo, Ontario-based company also announced that it will begin a program to "streamline operations," which will include layoffs.
Shares of RIM (RIMM) fell 21% Friday.
RIM said its forthcoming operating system, BlackBerry OS 7, will enable a slew of sexy, high-end product launches across the globe that will get the company out of its current funk.
But the release of BB7 has been delayed until late August at the earliest. That means the majority of the company's sales in the meantime have been -- and will be for the near term -- made up of cheaper, lower-end devices.
Scrutinized by analysts on a conference call Thursday afternoon, the company's defensive co-CEOs said the delays are due to RIM's carefully planned transition strategy.
"We understand you're seeing a lot of turbulence in marketplace, and it's difficult to understand the BB7 delays," Mike Laziridis, RIM's co-CEO, said on the conference call. "I would have liked nothing more than to get BB7 devices out sooner. But when you see the end result, you'll see it was worth the wait."
The latest, greatest BlackBerry smartphone, the Torch, is nearly a year old -- an eon in the fast-paced mobile device market. Meanwhile, Apple (AAPL, Fortune 500) and Google (GOOG, Fortune 500) have passed by the former market leader. Analysts and the media have begun to speculate that RIM is in need of a management overhaul.
RIM's CEOs blasted back against talk of an executive shakeup, and fended off criticism that the company's dual-CEO model is inefficient.
"Mike and I have been partners in this business for 20 years, and we've successfully navigated troubling times before," Jim Balsillie, RIM's other co-CEO, said on the call. "In navigating this current transition of ours, frankly few other companies would have survived. I couldn't have done it alone and I can't in future."
"Our good working relationship has led to the success we have achieved over the past two decades," Laziridis added.
Disappointing sales
Whatever the situation at the top of the company looks like, the top of RIM's balance sheet looked ugly.
For the fiscal first quarter, which ended May 31, sales rose 16% to $4.9 billion, missing analysts' forecasts of $5.2 billion.
RIM said it sold a disappointing 13.2 million devices last quarter, including a measly 500,000 PlayBook tablets. That fell short of RIM's already reduced guidance of 13.5 million to 14.5 million device sales over the past three months.
That range is even lower than Wall Street analysts' already much reduced expectations of $6.34 per share.
RIM's net income fell 10% to $695 million, or $1.33 per share. Analysts polled by Thomson Reuters had anticipated earnings of $1.32 per share.
In late April, RIM significantly slashed its forecasts for the quarter due to sluggish demand for BlackBerry devices. The company expected sales would come in just "slightly below" the $5.2 billion it had previously expected.
Since then, multiple analysts downgraded the stock, and shares have fallen by more than 37%.