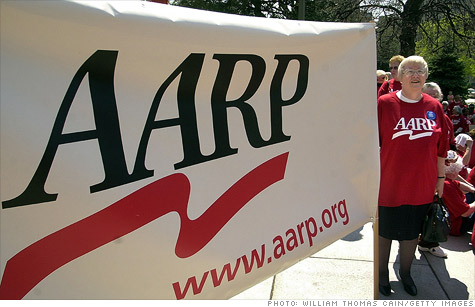 The lobbying group for seniors is coming under fire from Social Security advocacy groups, who feel the organization's willingness to accept benefit cuts is a mistake.
NEW YORK (CNNMoney) -- The AARP said Friday it expects Social Security benefit cuts to be part of a package to make the program solvent for the long run.
To hear the AARP tell it, that's been its position all along. But to deficit hawks and Social Security advocates, it's big news.
The Wall Street Journal on Friday reported that the powerful lobbying group for retirees was "dropping its longstanding opposition to cutting Social Security benefits."
The article ignited a firestorm. In statements and an interview with CNNMoney, AARP said the story was misleading.
"It's AARP's belief that at the end of the day there will be a package that affects both the benefit and the revenue side," David Certner, the group's legislative policy director, told CNNMoney.
And, he said, AARP wants to make sure any final package "does as much as possible to maintain benefits" and gives people enough lead time to adjust to any changes.
In the past, the AARP has opposed specific cuts to change the entitlement program.
For example, it has been against progressive indexing, which would adjust the formula that determines retirees' initial benefit, resulting in lower payments for higher-income beneficiaries, and possibly some more middle-income earners as well.
When asked what benefit cuts the AARP would now support Certner said the organization doesn't support any in particular "because there's been no consensus" among its members. Indeed, he said, there's no cut that most people favor.
AARP in a statement reaffirmed its opposition to privatization, which would allow people to direct some of their contributions to an investment account with stocks and bonds.
It did not comment on proposals to raise the retirement age at which retirees would be eligible for full Social Security benefits.
AARP surveys show broad support for raising the amount of income subject to the payroll tax that funds Social Security. The change would affect the highest income earners, since currently only the first $107,000 of income is subject to the Social Security tax.
Some, however, say that it was significant that the AARP earlier this year did not join forces with 200 or so advocacy groups that have been lobbying President Obama and Democrats to exclude Social Security from any debt-reduction talks.
The AARP maintained Friday it still does not want Social Security reform to be included in such talks, including those being led by Vice President Biden to strike a deal on the debt ceiling.
But representatives of some of those advocacy groups in a conference call Friday were very unhappy. "We're extremely disappointed," said Max Richtman, acting CEO of the National Committee to Preserve Social Security and Medicare.
By contrast fiscal experts welcomed the news.
"Today marks a watershed moment in American politics. For decades, AARP has stood against any substantial changes to Social Security. Now that they have opened the door to reform, it is time for lawmakers to walk through it," said Jonathan Cowan, president of Third Way, a centrist Democratic think tank.
The fact that AARP has signaled an openness to benefit cuts -- even if Social Security reform is considered on a separate track from debt reduction -- may improve the chances for getting a comprehensive debt-reduction deal done this year, said Maya MacGuineas, president of the Committee for a Responsible Federal Budget.
"This was an important move by them," MacGuineas said.