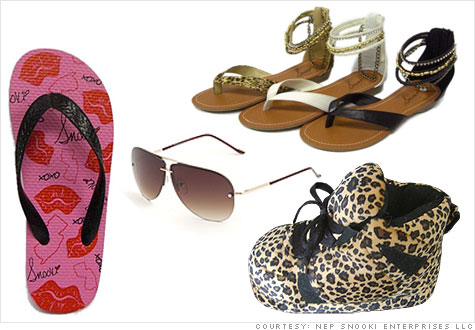 Snooki is launching a new line of flip flops, sunglasses and additional slipper styles later this year.
NEW YORK (CNNMoney) -- With her tan, pouf and penchant for pickles, Snooki has made her mark on America.
But now Nicole "Snooki" Polizzi, star of MTV's hit "Jersey Shore," is taking her fame a step further with a line of flip-flops due out this fall.
The reality star is following on the heels of the signature slippers she launched last year with a collection of wedges, sandals and thongs well suited for the beach.
The footwear will retail for $15 and $50, and come in a variety of classic Snooki styles from a pickle pattern to leopard print.
"Anything new is exciting for the industry, and when there's a celebrity behind it, it tends to do fairly well," said Brian Curin, president of the retail chain Flip Flop Shops.
The well branded Polizzi is currently in Florence, Italy, filming the fourth season of "Jersey Shore." She is also planning a line of sunglasses that will be available later this summer.
Her best-selling book "A Shore Thing," will be released in paperback June 28, and additional slipper styles are also coming soon, according to her manager, Danny Mackey at Neon Entertainment.