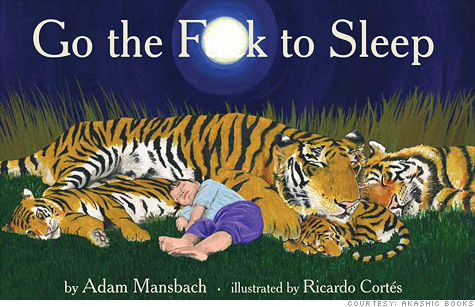 The publisher describes "Go the F*** to Sleep" as "profane, affectionate, and radically honest."
NEW YORK (CNNMoney) -- Samuel L. Jackson is taking on something even scarier than snakes on a motherf**king plane: Bedtime.
In a stroke of casting genius, publisher Audible landed the movie star -- famed for his poetic dexterity with profanity -- as its narrator for the audiobook version of "Go the F**k to Sleep," the brash pseudo-children's book that's burning up the bestseller charts.
Audible Inc. released the 6-minute recording Tuesday as a free download. In its first 48 hours, the audiobook racked up 160,000 downloads.
"We've also had a huge spike in downloads of our Audible iPhone and Android apps -- 140% rise in demand for Audible iPhone app and 160% rise for our Android app -- in the same 48 hour period," said Audible senior editor Matthew Thornton.
"Go the F**k to Sleep" publisher Akashic describes the book as "a bedtime book for parents who live in the real world, where a few snoozing kitties and cutesy rhymes don't always send a toddler sailing blissfully off to dreamland. Profane, affectionate, and radically honest."
Frustrated parents embraced the humor in a big way -- even before Jackson lent his voice to the book,"Go the F**k to Sleep" was a hit.
The book, written by Adam Mansbach and illustrated by Ricardo Cortés, originally was slated for a fall release. Then the PDF version of the book was leaked and went viral. It became so popular that Akashic moved the release dates for the print book and e-book up to June 14.
As of midday Friday, the print book was the bestselling title on Amazon (AMZN, Fortune 500), which owns Audible. The film rights already have been sold to Fox 2000.
Jackson's recording brought "Go the F**k to Sleep" even more buzz. On Thursday night, he appeared on "The Late Show with David Letterman" to read an excerpt.
His dramatic interpretation drew lavish praise from reviewers.
"This is the best thing I have ever heard in my life," one commenter wrote. "War and Peace, A Tale of Two Cities, Les Miserables have nothing on Go The F-ck to Sleep. The book is made only a million times better by the narrative by Samuel L. Jackson. I laughed, I cried, mostly at the same time."
A reader named Catherine wrote: "I love how Samuel L. Jackson starts off like as loving father and then goes all 'Pulp Fiction' on the child! He is the perfect narrator for this perfect book - I ordered 2 copies!"
Amid the mostly four- and five-star reviews, however, a few one-star raters were less amused: "Disgusting. How many times can you hear F...K in 6 minutes? This so called humorous book has absolutely no saving grace and was a total waste of time. Just forget this one, it is coarse and rude."