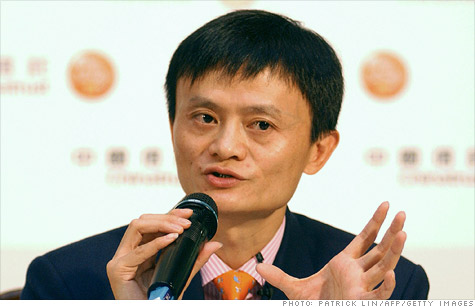 Alibaba CEO Jack Ma
NEW YORK (CNNMoney) -- Alibaba CEO Jack Ma said this month one of his key stakeholders, Yahoo, should split itself up. Now he's taken his own advice and reorganized Alibaba's Taobao retail unit into three parts.
Alibaba is an e-commerce giant in China, and it received a lot of stateside attention last month for a kerfuffle with major stakeholder Yahoo (YHOO, Fortune 500). Alibaba transferred its online payment service Alipay to a new company controlled by Ma. Yahoo said it was told of the transfer at the last minute; Alibaba disputed that.
Now another of Alibaba's properties is getting a major overhaul. Ma announced in an e-mail to employees Thursday that he is reorganizing Taobao into smaller companies to unlock greater value for the industry, the company and shareholders.
Taobao will be split into eTao, a specialized search engine for shopping; Taobao Marketplace, a social site for auctions and consumer-to-consumer shopping; and Taobao Mall, a more traditional shopping site featuring big brands.
"We have developed into a big company so rapidly in a short period [of] time, but competitive advantage is not about size," Ma wrote. "[N]ew organizational structures in order to discover new approaches ... That's how we stay innovative and stay on the cutting edge."
Ma said he "won't rule out the possibility of taking Alibaba Group public," and he said the company has a major responsibility to the industry.
"If Chinese e-commerce does not take off, it's our fault," Ma said bluntly. He ackowledged that "change is painful," but told employees "we must change before change is imposed on us."
Ma waxed philosophical on keeping the Taobao spirit alive: "A break-up may seem like a disadvantage on the scale front, as though Taobao has gone from 'somewhere' to 'nowhere'. However, through the 'Tao' companies Taobao will be 'nowhere but everywhere'. They will be omnipresent."
In addition to Taobao and Alipay, Alibaba owns Yahoo China and B2B platform Alibaba.com.
Alibaba.com went public on Hong Kong's stock exchange in 2007 and raised $1.7 billion -- at the time the second-biggest Internet IPO ever, behind only Google (GOOG, Fortune 500).