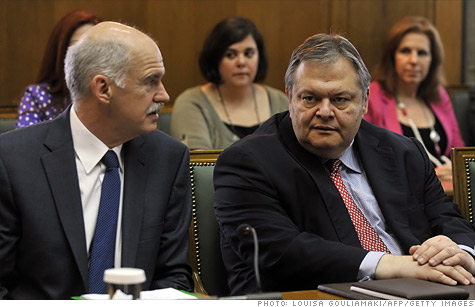 Greek Prime Minister George Papandreou, left, met last week with Evangelos Venizelos, right, who was recently appointed as finance minister.
NEW YORK (CNNMoney) -- Eurozone finance ministers made clear Monday that they expect Greece to push ahead with a harsh austerity plan, as a condition for getting more bailout money.
European finance ministers announced that Athens is on track to receive fresh loans in mid-July. But they held back from providing specifics on the impending second round of bailout funding.
"Given Greece's refinancing hump in July, the next installment of the aid is critical to avoid an imminent default," analysts at Deutsche Bank wrote in a report Monday.
For investors, the stakes are high regarding Greece's financial future. Expectations that the loans would come in earlier than July have caused European and U.S. stocks to decline after the opening bell.
"I think that [not getting a] rescue package over the weekend put things in a bit of a tailspin," said Anthony Conroy, head trader at BNY ConvergEx Group. "Banks are the hardest hit."
The stock prices for Citigroup (C, Fortune 500), Bank of America (BAC, Fortune 500), Goldman Sachs (GS, Fortune 500), JPMorgan (JPM, Fortune 500) and Wells Fargo (WFC, Fortune 500) were down between 0.5% to 1.9%.
White House spokesman Jay Carney said Monday that the Obama administration believes the Greece situation will be resolved, with Europe's help but "it does create a headwind."
The new loans are contingent on Greece's completing a planned "compliance report," which will include continued austerity measures that have already plunged the country into chaos.
"This, together with the passing of key laws on the fiscal strategy and privatization by the Greek parliament, will pave the way for the next disbursement [of loans]," the finance ministers said.
The European finance ministers also said that "voluntary roll-overs of existing Greek debt" would be permitted under the strict parameters of its bailout plans. The ministers said the move was needed, because Athens won't get access to private market funds until next year.
Greece is also embracing privatization, as required, and is preparing to sell off state assets in order to get loans.
Assets on the block include airports and highways, as well as state-owned banks, real estate and gaming licenses to meet international lenders' demands that it raise funds. Greece is required to raise €50 billion ($71 billion) through privatization by 2015.
Greek leadership is in a precarious state. Prime Minister George Papandreou reshuffled his Cabinet on Friday. He is expected on Tuesday to seek a vote of confidence in his new ministers, as his party clings to a wafer-thin majority in parliament.
Since last year, the Greeks have been tightening their belts under a raft of austerity measures that have included pension cuts; a sales tax increase; excise taxes on fuel, cigarettes, alcohol and luxury goods; tougher eligibility for disability benefits; and a hike in the retirement age to 65 from as low as 61.
The austerity package was required before Greece qualified for a €110 billion euro ($156 billion) bailout package in 2010.
Now, the Greeks are facing even more austerity measures to qualify for the fifth -- and last -- tranche of funding from that original €110 billion bailout package. These new measures include reductions in the pay of public workers and an increase in the attrition of public jobs.
The prospect of more cuts has enraged thousands of Greek protesters, who have clashed with armored riot police in Athens for weeks. The dissenters blame the austerity measures for causing further stagnation to the economy and painful joblessness.
Unemployment has soared since the austerity measures were implemented, from 11.6% in March, 2010, to the current level of 16.2%, according to Standard & Poor's analyst Marko Mrsnik.
The impetus behind the bailouts is the keep Greece from defaulting on its loans, which would have a disruptive ripple effect on European banks. These concerns were highlighted when Standard & Poor's downgraded Greece's debt on June 13 to just two notches above default status.
--A CNN Wire report was used in compiling this article.