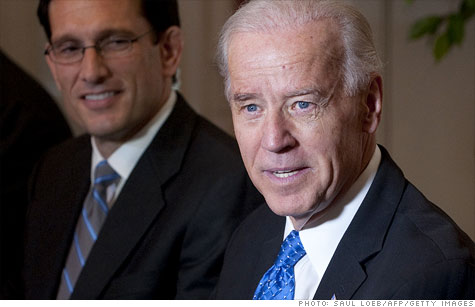 Budget negotiators led by Vice President Joe Biden and including top House Republican Eric Cantor (left) will step up their pace this week.
NEW YORK (CNNMoney) -- So little time. So little clarity. So much at stake.
It's T minus two weeks until July 1. That's the chosen deadline for the small bipartisan group of lawmakers negotiating a debt-reduction "framework" to accompany an increase in the country's debt ceiling.
Even that deadline, however, will make it hard to end the debt ceiling drama by Aug. 2, when the Treasury Department says it will no longer be able to pay all the country's bills in full without being allowed to borrow.
Indeed, the reality of the legislative process makes a short-term increase until September or October likely, some believe.
"In the next six weeks, there really isn't the time to technically draft that legislation, take it through the Congress, vote on it and have it signed," said former Congressional Budget Office director Barry Anderson at a conference held by the Committee for a Responsible Federal Budget last week.
There's another problem: It's still not clear that the group, led by Vice President Joe Biden, can even come to an agreement.
"They are probably making progress, but that doesn't mean you have a deal," said longtime political observer Norm Ornstein, a resident fellow at the American Enterprise Institute.
Nor is there any firm indication of what might be included in a final deal. Broadly, it appears there will be spending cuts, a debt or spending cap to shoot for over time and a trigger to keep lawmakers on the debt-reduction path they agree to.
It's also possible a deal will include some items that won't be called stimulus but which will cost money and be intended to help spur the economy since Main Street is still feeling less than robust.
For example, there's been chatter recently about extending the payroll tax cut for individuals passed in last December's $858 billion tax cut deal and possibly extending it to employers.
Spending cuts and entitlements: Reports suggest the Biden group is considering reducing anywhere from $1 trillion to $4 trillion of debt. Exactly how and over what time frame is a mystery and will likely remain so until a deal is done. Even then, don't faint if all is not made crystal clear.
What has been made clear -- repeatedly -- is that Republicans want the magnitude of spending cuts to exceed the magnitude of any debt ceiling increase.
Members of the Biden group themselves have kept mum on specifics. Biden allowed on Thursday that the group has given its "first serious scrub" of the federal budget but that divisions remain over big-ticket items.
Two likely points of division are entitlement programs (many Democrats say "hands off") and what, if any, tax increases to include (Republicans still hold publicly that they will agree to none).
When the group comes to an agreement -- or just throws in the towel -- President Obama, House Speaker John Boehner and Senate Majority Leader Harry Reid will have to step in to set the terms of a final deal.
That deal will then have to be sold to the full House and Senate. Some legislators will vote against any deal, and some will vote against the details of the specific deal presented.
That may be why Biden noted at the conclusion of his group's meetings last week that any package will need a heavy dose of bipartisan approval.
"Whatever gets sold, and the Congress affirmatively votes on will have to have a lot of Democratic and Republican votes," he said.
Short-term extension possible: Senate Republican Leader Mitch McConnell, appearing on CBS' "Face the Nation," said Sunday that if the package doesn't include changes to the entitlement programs Republicans might only approve a short-term increase in the debt ceiling.
If the Aug. 2 comes and goes without action, what happens next is anyone's guess.
The hope is that Treasury will be able technically and legally to continue making the interest and principal payments on U.S. debt and avoid so-called technical default. But it might have to start delaying payments to government contractors and ordinary Americans.
Some budget experts and political observers expect it will take Congress until the day before August recess to vote through a debt ceiling increase. The House and Senate are scheduled to fly the coop by Aug. 8. Or they may decide not to vote through an increase before vacation, putting the country in a particularly precarious spot.
Investors may start to doubt the United States has the political will to manage its fiscal affairs responsibly. And that could create a cascade of negative events that will hurt the country's credibility and the economy for months and possibly years to come.