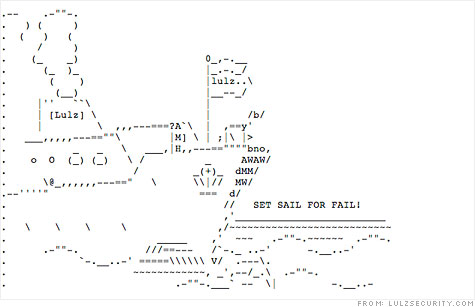 LulzSec has adopted a pirate logo and theme for its running commentary about its hack attacks.
NEW YORK (CNNMoney) -- Hacking groups Lulz Security and Anonymous have teamed up to target governments around the globe in what they're calling "Operation Anti-Security."
LulzSec unveiled its new partnership in a blog post declaring "immediate and unremitting war." The revolution will be tweeted: #AntiSec lit up Monday with comments about the campaign.
"Top priority is to steal and leak any classified government information, including e-mail spools and documentation," LulzSec declared in its post. "Prime targets are banks and other high-ranking establishments."
The group first targeted the U.K.-based Serious Organized Crime Agency (SOCA), crashing the site Monday afternoon.
"The Lulz Boat Tango down - soca.gov.uk - in the name of #AntiSec," LulzSec tweeted regarding the attack.
The onslaught that crashed SOCA is called a "distributed denial of service" (DDoS) attack. It's an unsophisticated but effective way of knocking a website offline by directing a firehose of traffic at the site.
DDoS attacks are a favorite tool of Anonymous, a decentralized global group of "hacktivists" that use a linked network of PCs to crash the websites of those they deem enemies. The group has used such attacks to take down websites including Mastercard and Visa.
LulzSec is a previously unknown hacking collective that burst onto the scene last month with a series of attacks against high-profile sites. Its hacks -- which so far have hit targets include Sony (SNE), PBS, and the U.S. Senate -- typically involve actually breaking into targeted sites and grabbing internal data from their servers. A DDoS attack, in contrast, doesn't compromise a website's security defenses -- it simply overwhelms its servers.

LuzSec itself seemed to recognize that a DDoS attack wasn't a very threatening start to what it claims will be an historic cyberwar.
"DDoS is of course our least powerful and most abundant ammunition," the group tweeted Monday. "Government hacking is taking place right now behind the scenes. #AntiSec"