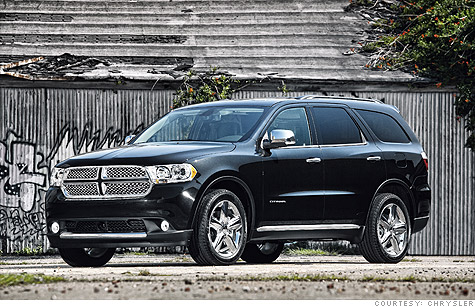 Chrysler Group's all-new models, like the Dodge Durango, are genuinely competitive, according to Consumer Reports. See inside the new Dodge Durango.
NEW YORK (CNNMoney) -- Chrysler Group has vastly improved its product line-up since exiting bankruptcy two years ago, according to Consumer Reports magazine, but there are still some major weak spots.
The best cars Chrysler, Dodge and Jeep dealers now offer are those that have been thoroughly redesigned and re-engineered while, for the most part, the weakest are those that have received only mild upgrades.
"It's clear that Chrysler is on the right path, but they still have a long way to go," said David Champion, senior director of Consumer Reports Auto Test Center.
It typically takes about five years for an automaker to bring a new car to production. Rather than simply wait for all-new models, Chrysler designers and engineers spent much of the last two years trying to improve many of the vehicles the carmaker was already selling.
Among the 2011 models called "unimpressive" by the influential magazine, despite some major work, was the Chrysler 200, the mid-sized sedan touted by rapper Eminem in an unprecedented two-minute Superbowl ad.
The 200 is a revamped version of the Chrysler Sebring. Despite changes to the interior and exterior design and to the suspension, the car remains "mediocre," according to the magazine.
The magazine complained of poor fuel economy, uncomfortable seats and middling handling and braking.
Chrysler Group's best models include the Dodge Charger sedan and the Dodge Durango SUV, both of which have been thoroughly re-designed and re-engineered. These new models were already in the works before Chrysler's bankruptcy and partnership with Fiat.
"The Charger now handles responsively and has a steady, comfortable ride," the magazine said. The magazine's car testers particularly liked the new 292-horsepower V6 engine that offers good fuel economy, refinement and strong performance.
Overall, the V6-powered Charger ranks close to high-scoring cars like Ford Motor Co.s (GM, Fortune 500) Taurus and General Motors' (GM, Fortune 500) Buick LaCrosse.
The magazine hails the Durango for its roominess and its supple ride, although its acceleration when equipped with the powerful Hemi V8 engine was called "on par with six-cylinder competitors."
The new Durango is entirely different from the truck-based vehicle Chrysler offered a couple of years ago. The new Durango, which shares its engineering with the 2011 Jeep Grand Cherokee, has a car-like unibody design that provides better handling and ride quality.
Consumer Reports also appreciated improvements to the Chrysler Town & Country minivan although "it still falls short of the best minivans," the magazine said.
"The improved interior is quiet, well-equipped and does a good job of damping bumps," according to the magazine, but its fuel economy remains a weak point and the van's six-speed transmission isn't smooth.