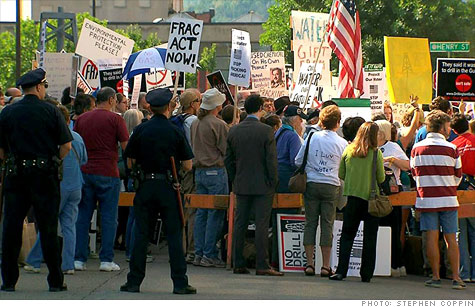 Anti-fracking protesters in upstate New York outside a hearing on natural gas development. Gas is a clean, abundant, domestic fuel. But thanks to a slew of missteps, the industry may be blowing its chance to make the most of it.
NEW YORK (CNNMoney) -- When Maryland Governor Martin O'Malley issued an executive order banning fracking earlier this month, the state joined the ranks of New York, Quebec, Germany, France and South Africa to halt the controversial technique for extracting natural gas from shale rock.
A series of public relations missteps is partly responsible for these bans on hydraulic fracturing -- the procedure that injects thousands of gallons of water, sand and chemicals deep underground to crack the shale rock and allow the gas to flow.
Failure to disclose what's in the fracking chemicals, opposition to a tax that could ease the impact on communities, the endorsement of a patchwork of sometimes inadequate regulations and a string of accidents are turning public opinion against the industry.
In many ways that's too bad. Used to generate electricity, among other things, natural gas is the cleanest burning fossil fuel and available in vast quantities in the United States. Plus, most analysts and major environmental groups feel shale gas can be produced safely if the right regulations are in place.
Yet even big players in the industry admit they're in trouble.
"The opposition has been out in front of the shale gas issue," Jack Williams, president of Exxon Mobil's shale gas unit XTO Energy, said last week at an industry conference.
Exxon (XOM, Fortune 500) is one one the bigger players in the shale gas business, but it's hardly the only company. Other big oil companies like Chevron (CVX, Fortune 500), ConocoPhillips (COP, Fortune 500), Royal Dutch Shell (RDSA) and BP (BP) are in on the game, as well as a string of smaller firms like Chesapeake (CHK, Fortune 500) and Devon (DVN, Fortune 500).
"We have not done a very good job explaining where and how hydraulic fracturing fits into the shale gas development process," Exxon's Williams continued. "We must do all we can to restore the public's trust...our industry depends on it."
Restoring that trust won't be easy.
Ever since shale gas development took off in the Dallas-Ft. Worth area over a decade ago people living near the fields have been pointing to problems.
As the shale gas phenomenon spread from Texas' Barnett shale to Louisiana's Haynesville, Arkansas' Fayetteville and, most recently, up to the Northeast via the giant Marcellus Shale, the problems have mounted.
Traffic, noise and air pollution from all the trucks, drill rigs and diesel generators are usually the first complaints. Then there's the water.
Some fear the fracking process itself, which occurs thousands of feet below the earth's surface, could contaminate the ground water. So far those fears have not been borne out, as miles of solid bedrock often separates the water table from the layer of rock where the gas lies.
But there have been dozens of cases where companies have paid large fines for water contamination that has occurred closer to the surface.
The cement and steel casings that line the wells as they pass through the water table, usually just a couple of hundred feet below ground, have failed. This has allowed gas or water tainted with naturally occurring radiation, high concentrations of salt, or heavy metals that often comes up with the gas to foul nearby drinking wells.
Spills of the fracking fluids or tainted water have also occurred during transport to or from the drill sites, as has the disposal into rivers of improperly treated water.
The effects -- people getting sick, animals dropping dead, tap water catching fire -- have been well-documented in a slew of press reports and in movies like the Oscar-nominated Gasland.
Yet the industry's response to all this has been to mostly highlight the economic benefits of natural gas drilling.
"They haven't addressed the environmental issues strongly enough," said Brenda Wrigley, head of the public relations department at Syracuse University's S.I. Newhouse School of Public Communications. "People still aren't convinced this can be done safely."
Wrigley, who lives in a part of New York State where shale gas development is hotly debated, said the industry has been speaking at people by taking out expensive television ads touting the economic benefits of drilling.
"Good public relations isn't just changing people's minds," she said "It's listening to people and adopting your actions to be mutually beneficial."
What a lot of people want is a disclosure of what's in the fracking chemicals, a severance tax on natural gas production in Pennsylvania, and tighter regulations on the industry in general.
The industry's response to these demands has been mixed, at best.
On the disclosure issue, the industry fought hard to not be regulated under the Clean Water Act in 2005.
They won, and as a result did not have to disclose what chemicals they are using in the fracking fluid, which the industry considers proprietary.
Yet that effort turned into fodder for anti-drilling activists. They dubbed the exemption the "Halliburton (HAL, Fortune 500) loophole" after the oil services company that's a big supplier of frack fluids and who's former CEO, Dick Cheney, was Vice President of the United States when the effort passed.
The industry recently set up a disclosure list known as FracFocus, but critics say it's only voluntary and doesn't provide a complete list of wells or chemicals.
On the severance tax, the industry also fought hard to keep one out of Pennsylvania, even though most other energy-producing states have one in place.
A severance tax could be used to build better roads to handle the increase in truck traffic, or hire more inspectors to make sure the regulations are being followed and there's not an accident.
"Their opposition to these types of things has really hurt them," said Melanie Kenderdine, executive director at Massachusetts Institute of Technology's Energy Initiative.
The record is a bit better when it comes to tightening regulations.
Pennsylvania has strengthened its regulations from a few years back, when shale gas development was virtually unheard of in the state.
Those efforts were generally supported by industry, according to Nitzan Goldberger, a natural gas analyst at Eurasia Group, a political risk consultancy.
Goldberger suggested that some of the better companies were even hoping for tighter regulations as a means of keeping out some of the bad actors who were causing accidents and giving the industry a bad reputation.
A spokesman for Exxon Mobil, now a major player in the shale business thanks to last year's $41 billion purchase of XTO Energy, said the industry is always improving its practices and that the company is supportive of new regulations when they are warranted.
But others pushing for tighter regulations say the industry as a whole has been less than receptive.
"There's been steadfast opposition to any meaningful improvements," said Kate Sinding, an attorney and natural gas expert at Natural Resources Defense Council.
The NRDC wants stronger regulations, which are are left to cash strapped states, to come from the federal government.
For Sinding, the biggest mistake the industry is making is insisting the fracking process itself is safe despite the many accidents that have occurred around well drilling and water disposal.
"They've got to stop relying on that old 'oh, there's never been a problem' line," she said. "People just don't believe it."