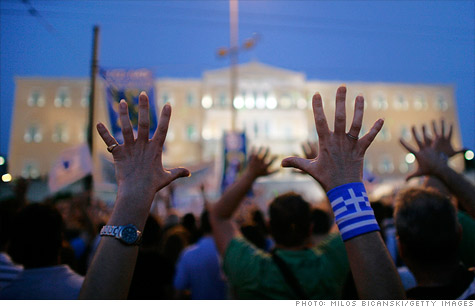 Protesters have taken to the streets of Athens, infuriated by the prospect of facing even more austerity measures.
NEW YORK (CNNMoney) -- Prime Minister George Papandreou of Greece has prevailed in a vote of confidence, but next comes an even tougher challenge.
Papandreou has a tenuous hold on power and must get Parliament to approve a package of painful reforms, adding even more austerity measures to the ones administered last year.
This must be done to win the last $17 billion tranche of a $156 billion bailout package from other European nations that was granted in 2010, and also to clear the way for another potential bailout package to keep Greece afloat going forward.
"The good news is that we don't have to wake up to a Midsummer's Night nightmare this morning," wrote Deutsche Bank analysts Jim Reid and Colin Tan, in a research note. "However, there are still hurdles to overcome."
Greece's parliament is scheduled to vote on the new austerity measures, valued at about $112 billion, on June 28, according to Reid. This will be followed by a meeting of European Union finance ministers on July 3 to approve the final tranche of funding from last year's original aid package.
The austerity measures implemented in 2010 -- including pension cuts; a sales tax boost; excise taxes on fuel, cigarettes, alcohol and luxury goods; tougher eligibility for disability benefits; and a hike in the retirement age to 65 from as low as 61 -- have been blamed for placing more pressure on the stagnant economy of Greece. They've contributed to a surge in the unemployment rate to 16.2% from 11.6% in March 2010, according to Marko Mrsnik, the lead analyst in the Standard & Poor's downgrade of Greek debt on June 13.
The next raft of belt-tightening would include reductions in the pay of public workers and an increase in the attrition of public jobs, placing further pressure on Greek workers, according to Mrsnik. It will also include aggressive efforts to rein in tax dodgers, among the most notorious culprits in undermining the nation's government funding.
These are the measures that Papandreou must get passed next week in order win approval for the next wave of bailout funding from the International Monetary Fund. This would be the fifth and last tranche, of $17 billion, from last year's $156 billion bailout.
"Greece's immediate fate hinges on its parliament's approval of the austerity program," said Carl Weinberg, an economist with High Frequency Economics.
The specter of even more austerity measures has inspired rioting in the streets of Athens in recent weeks, where protesters have thrown firebombs and clashed with armored police.
Acknowledging this public dissent, European Commission President Jose Manuel Barroso said additional austerity would bring "hardships," but was "long overdue."
"If there were an easier route out of the crisis, we would have taken it. But there is not," said Barroso, in a written statement Tuesday, after meeting with Papandreou.
Weinberg, in a research note, said he was hopeful that Greek parliament members will support the new austerity program, given their vote of confidence Tuesday night.
But financial support is essential to Greece, which would otherwise ran the risk of defaulting on its international loans in mid-July, sending shock waves through the European banking sector, said Weinberg.
Greece has "heavy near-term financing requirements," according to S&P, with about $135 billion in government debt maturing between now and the end of 2013. An additional $82 billion is set to mature in 2014.
"Greece's immediate fate hinges on its Parliament's approval of the austerity program," said Weinberg.