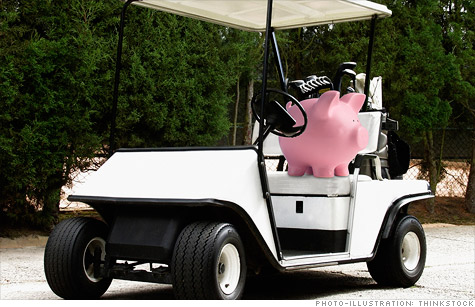 (Money magazine) -- Worried that you're not saving enough to achieve the post-work life of your dreams? Let a retirement calculator give you a reality check.
Faster
Go to CNNMoney.com/retirement. Input a few numbers -- your age, income, when you want to retire, and desired retirement income -- and our web site's calculator uses assumptions about things like future inflation and your eventual Social Security payout to estimate how much you should be saving each year. No pinpoint precision here -- but sometimes quick and dirty is all you need.
Time it takes: Two minutes, tops.
How much it costs: Free.
Cheaper
Fire up T. Rowe Price's Retirement Income calculator (troweprice.com). Gather documents that list your current retirement savings and asset allocation, details of any employer pensions, and your Social Security estimate (find it at ssa.gov). Input that data and answer other questions; you'll learn how much you should be saving, plus the chances that you'll have enough at retirement. Play around with the numbers -- using different retirement dates or investing strategies -- to see how those changes affect your prospects.
Time it takes: No more than 20 minutes.
How much it costs: Free.
Better
Buy ESPlanner Plus (esplanner.com). "Other programs ask you to put in your own retirement income target," explains Boston University economist Laurence Kotlikoff, who developed the software. "We find the spending target for you." The goal: to help you smooth your living standard over your lifetime.
ESPlannerPLUS requires you to answer significantly more questions than T. Rowe's calculator, but you'll get "the most accurate projections of any planning product I've seen," says Rick Miller, a financial planner in Waltham, Mass. Indeed, many financial pros use a version of the software themselves.
Time it takes: About an hour.
How much it costs: $199 (you can test-drive the site's free "basic" version before buying).
Hit your milestones
If you earn $100,000 a year and have $25,000 saved so far, here's how much you should be saving for retirement.
NOTES: In today's dollars. Assumes you'll retire at 65 and replace 80% of your current income; factors in Social Security, 3% inflation, and a 7% annual investment return. SOURCE: CNNMoney.com's What You Need to Save calculator.