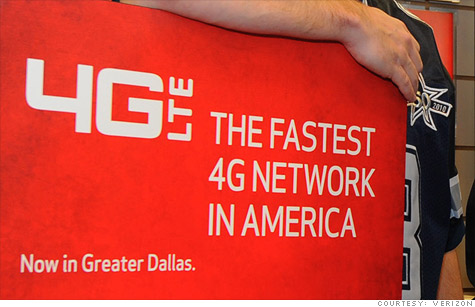 A new bill introduced to the House would require telecoms to clarify what they mean by '4G.'
NEW YORK (CNNMoney) -- The term "4G" is particularly confusing, because it means something different to every wireless company: Service, speed and technology vary wildly. A bill introduced to Congress on Wednesday would attempt to clear that up.
The Next Generation Wireless Disclosure Act would force carriers to shine more light on exactly what they are providing customers. At the point of sale, wireless providers would have to provide specific information about speed, reliability, coverage zones, pricing, and the technology used for the service. Consumers would also be provided with a side-by-side comparison of the top 10 competing networks' speeds and prices.
The bill was introduced by Rep. Anna Eshoo, a Democrat from Palo Alto, Calif., and the ranking member of the House Subcommittee on Communications and Technology.
Eshoo's office said the proposed new disclosure would work like a sticker on a new car, on which the government requires dealers to place fuel economy and safety information.
"Consumers deserve to know exactly what they're getting for their money when they sign-up for a 4G data plan," said Eshoo in a statement sent to the press. "We need to enhance transparency and ensure consumers are fully informed before they commit to a long-term service contract."
Much of the consumer confusion surrounding 4G stems from the vastly different 4G-branded offerings from wireless companies. To cut through the marketing hype, the bill would require the wireless companies to work with the FCC to set a minimum speed standard for 4G. The FCC would establish the speed range, which would be guaranteed by the carriers.
The current lack of a clear 4G definition has left many consumers in the dark about what they're really buying.
Sprint Nextel (S, Fortune 500) was the first to launch a network called 4G, going live with it in earlier 2010. It is based on a network standard called WiMAX, which is capable of speeds ranging from 3 Mbps to more than 10 Mbps.
T-Mobile soon followed suit, claiming at the time to be "America's largest 4G network." But T-Mobile's 4G network is actually an expansion of its existing 3G network, which operates on a standard known as HSPA+. Despite not being true "4G," T-Mobile's network can reach speeds of 5 Mbps to 12 Mbps -- faster than Sprint's.
Verizon (VZ, Fortune 500) launched its 4G network late last year, and it now claims to be the nation's largest and the fastest. The company's 4G network operates on the Long Term Evolution (LTE) standard, which will average 5 Mbps to 12 Mbps speeds.
AT&T (T, Fortune 500), which is expected to unveil its 4G-LTE network in the coming months, decided not to be the lone major carrier without a 4G network. So earlier this year, the company also began calling its 3G-HSPA+ network "4G." That means AT&T will soon have two 4G-branded networks, each using different technologies -- and its current 4G offering could, in some instances, be faster than its soon-to-be-released, new 4G network.
Here's the kicker: None of the four major carriers' networks are even technically 4G.
The International Telecommunication Union, the global wireless standards-setting organization, determined last November that 4G is defined as a network capable of download speeds of 100 megabits per second (Mbps). That's fast enough to download an average high-definition movie in about three minutes. None of the new networks the carriers are rolling out could match even a fifth of that standard.
After much lobbying by the telecoms, the ITU in December relented and acknowledged that many wireless providers had already been labeling "evolved 3G technologies" as "4G." As a result, the organization muddied the waters further by declaring 4G "undefined."
Several consumer advocacy groups, including the Consumer Reports' publisher Consumers Union, announced their support of Rep. Eshoo's bill.
But the proposal faces a very steep uphill climb to garner enough votes to pass. The powerful telecom lobby group CTIA opposes it.
"We are concerned that the bill proposes to add a new layer of regulation to a new and exciting set of services, while ignoring the fact that wireless is an inherently complex and dynamic environment in which network speeds can vary depending on a wide variety of factors," the group said.
Eshoo's office said it reviewed the bill will the telecom companies and the FCC. When contacted for comment, several wireless providers said they did not have adequate time to review the bill and don't yet have a statement ready on it.
Verizon took the proposal as an opportunity to slam its rivals.
"When companies exaggerate their claims, and relegate technology advances into nothing more than marketing games, they shouldn't be surprised when elected officials insist that consumers receive truthful and accurate information," said Jeffrey Nelson, spokesman for Verizon Wireless. "4G LTE smartphones run twice as fast on the Verizon Wireless network, no matter how many 'Gs' the AT&T marketing department claims."
FCC commissioner Michael Copps called the bill "common sense" in a prepared statement. He said it "would arm consumers with exactly the kind of information they need to make smart choices for their mobile broadband service."