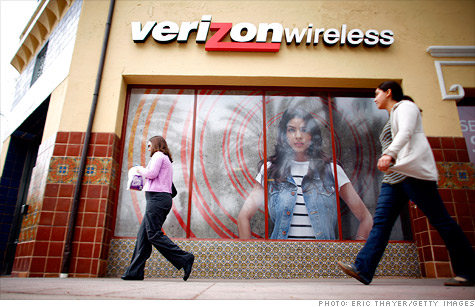 Thinking about switching to Verizon or renewing your contract? You'd better hurry if you want unlimited data.
NEW YORK (CNNMoney) -- Another one bites the dust.
Verizon Wireless will join competitors AT&T and T-Mobile next month in eliminating the option for customers to consume unlimited data on their mobile phones without paying additional fees.
Company spokeswoman Brenda Raney confirmed that Verizon is moving to a "more usage-based model in July" for its smartphone data plans. She characterized the changes as "minor."
Verizon (VZ, Fortune 500) said more details would be coming next month, including pricing information. Customers currently under contract won't be affected by the changes, but new and renewing customers will likely have to accept the new, tiered plans.
A switch to a usage-based pricing model has been long rumored for Verizon. In January, when the company announced that the iPhone would come to its network, the company said it would only allow iPhone users to consume unlimited data "for a limited time."
AT&T (T, Fortune 500) became the first carrier to end its all-you-can-eat data plan for smartphone users in June 2010. Last month, T-Mobile followed suit by canceling its unlimited data plan as well.
After Verizon switches to a tiered model, Sprint (S, Fortune 500) will be the lone major U.S. carrier to provide its customers with unlimited smartphone data.
With costs of maintaining their networks flying through the roof, the nation's largest wireless carriers are attempting to limit the mobile Internet usage of their most download-happy customers. Mobile Internet usage is growing rapidly, and carriers are spending $50 billion a year to build new 4G networks that can keep up with customers' demands.
In the past, wireless providers have tried to slow down demand by throttling data speeds and raising costs. Price tiering appears to be the next step.
"The all-you-can-eat data model isn't sustainable," said Bob Lento, president of information management at Convergys, a firm that handles billing for major telecom companies. "It costs billions for carriers to keep up with customers' data demands. At the same time, they need to be better about informing the customer about the changes so they don't experience bill shock."
AT&T customers pay $15 a month for 200 megabytes of data, or $25 for 2 gigabytes plus an additional $10 for each gigabyte of monthly data usage that exceeds the allotted 2 GB limit.
T-Mobile offers 2 GB of data for $10 a month, 5 GB for $20 and 10 GB for $50.
Verizon currently offers an unlimited data plan for $30 a month.
The problem with carriers' price tiers is customers' download demands are quickly encroaching on wireless providers' limits as mobile video usage explodes. Over the next four years, total mobile video traffic will expand to 197 million gigabytes -- or about 13 billion YouTube videos, according to Cisco's Visual Networking Index.
If you want to watch Netflix (NFLX) on your smartphone using a mobile connection, for instance, 2 GB only gets you between six and 12 hours of streaming movies and TV shows, depending on the bit rate.
Cisco (CSCO, Fortune 500) recently reported that the top 1% of mobile data users account for 20% of all mobile traffic. But just one year ago, those data hogs were consuming 30%. The drop means that average users are downloading more and more.