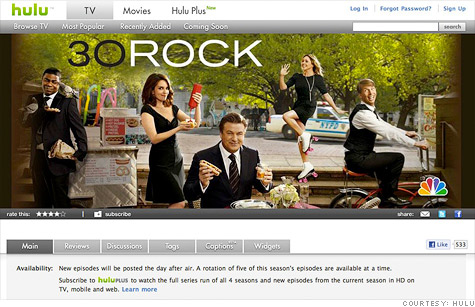 NEW YORK (CNNMoney) -- Hulu is considering an unsolicited takeover offer, according to several news reports making the rounds on Wednesday.
The rumors come one year after reports that the online video streaming service was preparing for an initial public offering.
Hulu, founded in 2008, is co-owned by News Corp.'s (NWS) Fox, Comcast (CMCSA, Fortune 500), Walt Disney Co.'s (DIS, Fortune 500) ABC and private equity firm Providence Equity Partners.
The Wall Street Journal posted an article late Tuesday saying Hulu had received a bid, but the potential buyer wasn't named. The Los Angeles Times followed up with a piece naming Yahoo (YHOO, Fortune 500) as the bidder, though TechCrunch said one of its sources close to Yahoo deemed that report "completely untrue."
A Yahoo spokeswoman said the company doesn't comment on "rumor or speculation." News Corp. declined to comment, and the other owners did not respond to requests for comment. Hulu also did not respond.
If a buyout is in the works, it could be a comparatively easy exit strategy for Hulu and its diverse collection of owners. Hulu reportedly abandoned its plans for an IPO last year because it wasn't able to secure long-term deals with content providers.
While those content deals have been elusive for Hulu and its competitors, including Netflix (NFLX), the company has nonetheless touted some strong financials.
In an April blog post, Hulu CEO Jason Kilar shone some light on the company's financials. Hulu's revenue is on track to hit $500 million this year, up from $263 million in 2010, he said.
But he said nothing about profitability. Hulu bears some heavy licensing costs for its content: Kilar said the "content community" -- meaning the owners of the shows Hulu streams -- are on pace to earn $300 million this year through Hulu.
Hulu expects its subscription-based service, called Hulu Plus, to exceed 1 million users by the end of the year. The premium service costs $7.99 a month and allows subscribers to view episodes from the current season of participating shows, as well as past seasons.
But most people who use Hulu stream it for free, according to data from comScore released last week.
Hulu attracted 28.5 million unique U.S. users last month, comScore said. Those viewers watched nearly 196 million TV programs or movies on Hulu in May, and they spent nearly 3.7 hours each watching, on average. That time spent watching is second only to YouTube and other Google-owned sites.
All of that makes Hulu extremely attractive to advertisers. Hulu generated the highest number of video ad impressions of any website in May, according to comScore. Those 1.3 billion video ad impressions which reached 9.2% of the U.S. population.