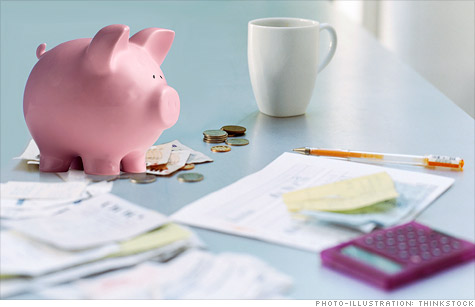 (Money magazine) -- Budgeting is not nearly as painful as you may think -- if you pick the right system, that is. The payoff: You'll find it much easier to save.
Faster
Make a "bucket budget." Open one savings and two checking accounts. Ask your employer to divvy your paycheck into three portions, each of which is directly deposited into one of the accounts, as follows:
Savings account: The amount you want to save (duh).
Checking account 1: The amount you need to meet regular fixed expenses.
Checking account 2: Whatever money is left.
Just glance at the second checking account and you'll know exactly how much you have available "to spend on the fun stuff," says Tahira K. Hira, a professor of family finance at Iowa State University. What could be easier? (To make this system work, you'll have to lay off the credit cards.)
Time it takes: Less than an hour to set up.
How much it costs: $5 to $10 or so a month for the extra checking account.
Cheaper
Use Mint.com.This tool, available online and via an iPhone app, lets you customize a budget with the spending categories of your choice: food, gas, and the like.
Enter your bank and credit card info, and Mint will grab details of your spending from those sources and categorize it automatically.
Cool? Definitely. Perfect? Not so much. For example, if you buy toiletries at the grocery store, Mint may categorize them as food. And you must enter cash purchases by hand.
Time it takes: About an hour to set up, plus 30 minutes or so a month to add cash transactions, fix errors, and track progress.

How much it costs: Free.
Better
Buy the good stuff. Quicken Premier software (quicken.intuit.com) requires more TLC than Mint (which was purchased in 2009 by Intuit, Quicken's parent).
But for the true budgeting obsessive, nothing else comes close. With this software you can set up the most detailed budget goals available anywhere, plus easily track your progress.
And unlike Mint, Quicken lets you pay bills online and even export data to tax-preparation software such as TurboTax.
"If you have a complex financial picture," says Walter Zebrowski, a certified public accountant in New York City, "this is best."
Time it takes: Serious users may devote an hour or more a week.
How much it costs: $90.