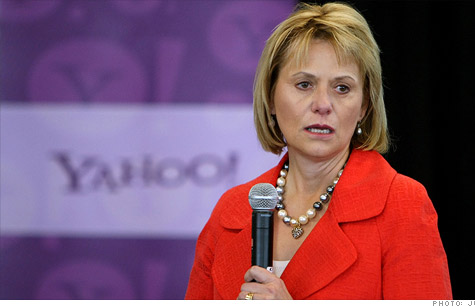 Yahoo CEO Carol Bartz faced a grilling at the company's shareholder meeting.
NEW YORK (CNNMoney) -- Yahoo CEO Carol Bartz tried valiantly to put a good spin on things at the company's annual shareholder meeting on Thursday, but the shareholders weren't having any of it.
Bartz spent the presentation talking up Yahoo's victories, including cost-cutting and high traffic during the British royal wedding and the Japanese tsunami.
But the mood changed quickly when the meeting was turned over to shareholders for their questions and comments. Yahoo (YHOO, Fortune 500) took only a few questions, and the final barrage from an investor was shockingly sharp.
"The tone of this meeting is as if the stock is at a 52-week high, not languishing for three years," the investor said. "I'm going to address the elephants in the room. I think this is a lot of what shareholders are talking about but won't say."
He continued: "I want to address what we've seen in blogs, that the board is talking to other CEOs. The last thing Yahoo needs right now is a lame duck CEO ... Yahoo cannot afford another exodus of talent, and I think this is likely if Carol remains for the duration of her contract."
After a short pause, Bartz fired back: "Thanks for your opinion, the bloggers' opinions and the rumors."
With that, the meeting was over.
It was an abrupt end to a tough day for Yahoo, which has been dealing with struggles on many fronts over the past few months. Shareholders slammed the company not only for its slumping stock price, but also for its loss of display ad market share and the Alibaba mess.
Yahoo's stock is down more than 30% over the past three years -- and shares are off more than 10% in 2011 alone.
Still, the board took pains Wednesday to express its "full confidence" in Bartz as Yahoo's CEO. A spokesman later denied the rumors that the board is searching for a Bartz replacement.
During the Q&A session, another investor asked about Yahoo's market share in display advertising -- once its biggest stronghold but now facing sharp competition from rivals Google (GOOG, Fortune 500) and Facebook.
"Facebook didn't even exist six years ago," the investor said. "If we are number one or two in 19 product categories, why are we losing dominance in product display?"
Bartz repeated her go-to line about Facebook's ads: that they're "a lot of little impressions. It's not like us with brand advertising, where it tells a story. It's just starting to come into its own for us."
Bartz also addressed slumping search figures and the Yahoo's search alliance with Microsoft's (MSFT, Fortune 500) Bing.
"We gave up on search, really, because we felt we couldn't continue to invest heavily in the back end of this arms race," she said.
Bartz continued to shut down conversations about Alibaba, the Chinese e-commerce company of which Yahoo is a major shareholder. In May, Yahoo disclosed to the SEC that Alibaba had transferred 100% of its ownership of e-commerce Alipay to a new company controlled by Alibaba CEO Jack Ma.
Yahoo said it was not made aware of the asset transfer until March 31 -- and that it "occurred without the knowledge or approval of the Alibaba Group board of directors or shareholders." Alibaba disputed those claims, saying the transfer was discussed at several board meetings years ago.
"We all agreed to not talk publicly about it until [discussions] are done," Bartz said Wednesday of the ongoing negotiations.
Ignoring that, the final investor to speak at Yahoo's meeting -- the one who asked the tough questions -- didn't hold back on the Alibaba mess: "The debacle over the past few months is unlike anything I've ever seen," he proclaimed.