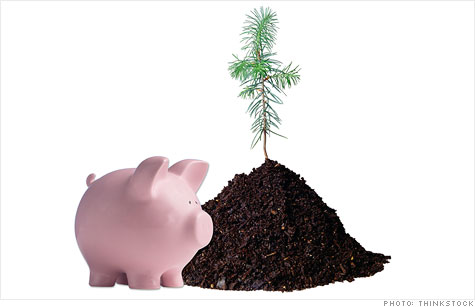 (Money magazine) -- Bad corporate behavior isn't exactly in short supply. If you want to find the good guys, you need a little help.
Faster
Invest in just one fund: Pax World Balanced (PAXWX) (three-year annualized return: 0.6%), known for steady management. It stashes about 30% of assets in bonds and 70% in stocks that follow sustainable practices, such as environmental and workplace safety.
Time it takes: Mere minutes.
How much it costs: Pax World's expense ratio is 0.96%
Cheaper
Seek out ETFs with very low expense ratios. Among them, Matt Hougan of IndexUniverse.com, which researches index funds and ETFs, recommends iShares MSCI USA ESG Select Index ETF (KLD) (three-year annualized return: 2.0%). It tracks a benchmark of about 250 companies with records of treating workers well, among other criteria. For the fixed-income portion, do what many socially responsible bond funds do: Focus on U.S. government and agency issues. A low-cost choice: Vanguard Intermediate-Term Government Bond Index ETF (VGIT).
Time it takes: About an hour to do the research and buy.
How much it costs: KLD's expense ratio is 0.50%; VGIT's, 0.15%.
Better
Build a portfolio of stocks. Have very specific goals -- say, you want to invest only in companies that do business in Southeast Asia and have stellar environmental records? None of the 150 or so socially conscious funds may be a perfect match. But picking stocks on your own is tough: Investigating overseas labor policies or carbon footprints is difficult and costly, and most suppliers of such data don't sell it to individual investors. Your best bet: Hire a financial adviser who specializes in socially responsible investing (find one at napfa.org or socialinvest.org).
Time it takes: Several hours a year to meet with the adviser.
How much it costs: About 1% of assets per year.