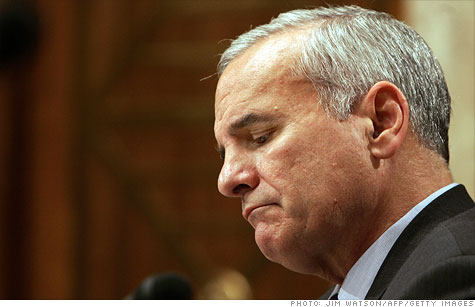 Minnesota could experience a government shutdown if Governor Mark Dayton and Republican lawmakers don't agree on a budget by month's end.
NEW YORK (CNNMoney) -- The neediest residents in Minnesota could lose their lifelines if there is a state government shutdown.
Social service agencies around the state are scrambling to find ways to continue helping their clients if Governor Mark Dayton and Republican lawmakers don't settle their budget differences before Friday. Without an agreement, the state government would shut down and many agencies could see their main source of funding disappear.
"It could be life-threatening for some families," said Joanette Robertson, the associate director at the Family & Children's Center in southeastern Minnesota.
Some 90% of the center's clients are covered by a state health-insurance program, such as Medicaid. If the center loses that funding, it will have to cut off services for children and families contending with severe mental health issues.
The agency provides day treatment and schooling for the children, as well as therapy sessions and in-home counseling. It also has a residential facility for adults who have been released from hospitals or other institutions. It serves about 130 children and families every day.
Without the care the center provides, more children could run away, suffer abuse or engage in risky behavior, Robertson said. At worst, some could commit suicide.
"If they can't access our programs, it's anyone's guess," she said.
Agencies that provide health services could win a reprieve if a state judge determines that they provide critical services. In that case, they would continue to receive payments. A ruling is expected before the new fiscal year begins on July 1.
Adults who depend on social services could also be left in the lurch.
Merrick Inc., which offers vocational and social programs for adults with developmental disabilities, depends on the state for most of its funding. It serves 350 people who are either placed in companies or work within the agency doing tasks such as packaging.
If Merrick loses its state funding, it could continue to operate for several weeks, said Mike Greenbaum, finance director. But its vendors would suffer since the agency would have to do everything possible to preserve cash, he said. It might even have to skip a mortgage payment.
"The economic impact goes beyond just us," Greenbaum said. "It affects a lot of people who provide us services."
Social service agencies aren't the only ones contending with a possible shutdown. School districts are also racing to come up with contingency plans if the Department of Education halts operations and payments. The state is advising them to dip into their reserves or take out short-term loans to cover their expenses until the budget impasse is resolved.
The problem goes beyond money, however. Some students are scheduled to take exams in early July that are required for graduation. If they can't, they may have to delay going to college.
Teachers could also run into trouble having their licenses approved or renewed. That's one of the things concerning Steve Brandt, principal at Barnum High School, which has just over 300 students in 7th through 12th grade.
"What if a teacher comes back next fall and isn't licensed?" he said.
Some 12,000 teachers need to have their licenses approved or renewed over the summer, said Charlene Briner, spokeswoman for the state's education department. If the state shuts down, it could be difficult to get through the backlog that would develop.
"It would be a challenge to do so," she said.