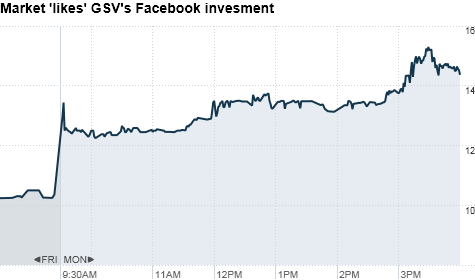 Click the chart for more on GSVC.
NEW YORK (CNNMoney) -- Facebook mania sent GSV Capital's stock up more than 40% on Monday, after the fund announced that it had purchased a tiny stake in Facebook.
Shares of GSV (GSVC) -- a publicly traded investment fund that focuses on "high growth," venture-backed private companies -- shot up to close at $14.37 on Monday.
The Woodside, Calif., company said in a press release early Monday that it had acquired 225,000 Facebook shares at $29.28 each. The nearly $6.6 million investment represents about 15% of GSV's total portfolio.
Facebook has 2.4 billion shares outstanding, according to SharesPost, a secondary market exchange through which buyers and sellers can trade shares of private companies.
By that figure, GSV's investment values Facebook at about $70.3 billion. It also means that GSV's investment gives it the teeniest sliver of Facebook ownership: The shares it purchased represent less than one-one hundredth of 1% of Facebook's outstanding stock.
"Facebook is a one-of-a-kind business which has created enormous network effects," GSV Capital's CEO and founder, Michael Moe, said in a written statement. He called the investment "a great example of how we intend to quickly seize opportunities."
GSV did not disclose how it acquired the shares, but exchanges like SharesPost and its larger rival, SecondMarket, facilitate private deals between those who own stock in private ventures -- often early employees and investors -- and eligible buyers.
Investors are clamoring to get a piece of Facebook as they wait for the social network to go public, something expected to happen by early 2012. Twitter and Zynga are the other of the "big five" tech companies that are still private. LinkedIn (LNKD) debuted in May, and Groupon filed its IPO paperwork earlier this month.
GSV itself went public just a few months ago. By creating a portfolio of stakes in buzzed-about private ventures, the fund aims to give ordinary investors access to investments typically only available to wealthy dealmakers. But with valuations soaring for high-profile Web ventures, the fund risks being burned if there's a tech bubble that pops.
GSV's first investment was a direct $2.25 million investment in Kno, a startup working on an e-reader for textbooks. GSV said that it's in the final stages of "a handful" of other private company investments that it expects to close within the next 30 days.