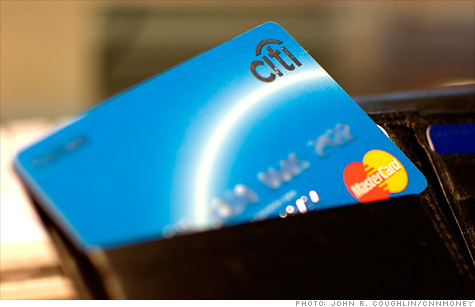 NEW YORK (CNNMoney) -- Citigroup acknowledged that a hack attack last month stole millions of dollars from customers' credit card accounts.
Citigroup (C, Fortune 500) told CNN that about $2.7 million was stolen from about 3,400 accounts on May 10.
The hackers actually accessed a much larger number of accounts: 360,083. Fewer than 1% of the hacked accounts had money removed from them, according to Citigroup.
The bank reiterated that customers will not be responsible from financial losses stemming from the attacks.
"Customers are not liable for any fraud on the accounts and are 100% protected," the bank said.
Citigroup announced on June 16 that more than 200,000 new credit cards had been issued to hacked customers. In some cases, customers had already closed their account or had received a new credit card, so they didn't need the Citi-initiated replacement.
Citigroup waited until June 3, more than three weeks after its discovery of the hack, to start sending out notification letters. However, the company insisted that it acted quickly to deal with the security problem
"From the moment Citi discovered the breach, we took immediate action to rectify the situation and protect any customers potentially at risk," Citi said in a written statement earlier this month.
There has been a spate of recent, high-profile security breaches. Video game maker Electronic Arts (EA) said Friday that hackers recently breached a server linked to a message board, stealing customer information.
Sony (SNE) was subjected to major hacks in April and May, affecting several of its gaming systems and potentially compromising tens of millions of credit card numbers.
In a separate case, hackers used SecurIDs -- the tokens used by office workers to access corporate systems -- to launch cyber attacks against Lockheed Martin (LMT, Fortune 500). The maker of the tokens, RSA Security, a division of EMC Corp., (EMC, Fortune 500) offered to replace or monitor all SecurIDs.
Bank of America (BAC, Fortune 500) employees and some clients use the tokens. The banks said they will be replaced.
-- CNN's Nina Golgowski contributed to this story