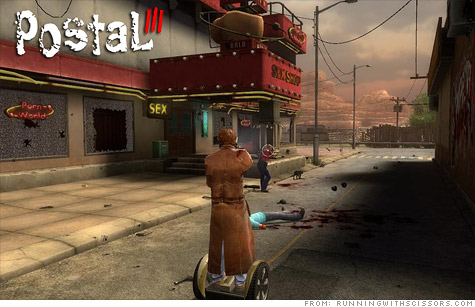 California lawyers singled out the "Postal" series as a "violent" title that retailers should be banned from selling to children.
NEW YORK (CNNMoney) -- The Supreme Court has struck down a California law that would have banned selling violent video games to children -- and game publishers couldn't be happier.
The 7-2 ruling on Monday killed the 2005 law, in which California's legislature argued the gaming industry's voluntary rating system is not strong enough.
At the time, California's lawyers singled out the Running With Scissors game "Postal 2." That game follows a character through everyday tasks -- with the option to embark on murderous rampages.
Vince Desi, the CEO of Running with Scissors, is thrilled with the Supreme Court's ruling.
"Believe it or not, I do have some confidence left in America and the Constitution," Desi said. "When we lose the freedom of expression, the country is toast. Right now we're in the oven, and sometimes we're on broil. But this worked out."
Freedom of expression was a main thrust of the court's decision. Writing for the majority, Justice Antonin Scalia called the law "seriously overinclusive" and an infringement on First Amendment rights.
Desi, whose company is based in Tucson, Ariz., slammed the California legislators, saying he thinks they were working only for political interests and "pretending it's for moral reasons." He also defended "Postal 2" as a game that "serves up consequences for killing and is a reflection of real life."
Other video game publishers also latched on to the "freedom" idea in their reaction statements on Monday.
"Video games have had to face down censors and stand up for creative freedom," Electronic Arts (ERTS) said in a written statement.
Activision Blizzard's (ATVI) chief policy officer George Rose, whose company publishes the "Call of Duty" series, called the California law "vague and misconstrued." He applauded the Supreme Court for the "strength of the opinion," which he said "leaves very little room for interpretation."
Take-Two Interactive -- the publisher of popular video game franchises including Grand Theft Auto, Red Dead Redemption and BioShock -- said it was "pleased" with the ruling, which "affirms that freedom of artistic expression is protected by our constitution."
Take-Two (TTWO) CEO Strauss Zelnick added in an e-mail that Take-Two "take[s] our social responsibilities seriously."
Desi, the Running with Scissors CEO, agreed that developers do have a responsibility -- but so do the other parties involved.
"This is an opportunity for everyone involved in buying a game to look in the mirror," Desi said. "I as a developer have a policy on the type of games I make. The retailer should make the game available and advertise it correctly. If it's a 'kill everyone, shoot 'em up' game, just say that."
But two other groups need to step up to their responsibilities, Desi said. Parents should determine whether their children are "intelligent and mature," and buy or skip certain titles accordingly.
He also criticized the Entertainment Software Rating Board, which classifies games based on content and age categories. The board has six ratings tiers, ranging from "E (Early Childhood)," indicating games suitable for ages 3 and up, to "AO (Adults Only)," its strictest designation for games meant for those over 18.
But just like the Motion Picture Association of America's rarely used NC-17 designation for films, the AO rating rarely gets invoked. The ESRB currently has more than 1,500 titles rated "M (Mature)" -- and just 24 ranked AO.
"The rating board will give you an 'M' even if you have full nudity in there," Desi said. "It's like everything gets an M. Whether it's the developers or the retailers or the ratings board, it's like, present a game as it is."
ESRB spokesman Eliot Mizrachi replied that the "M" rating for a game is like an "R" rating for a film -- that is, indicates that the content is meant for those for over the age of 17. He said the warning to parents is "unmistakable," and that many retailers won't sell M-rated games to kids without parental consent.
Mizrachi acknowledged "there's the potential for a range of content to be included in the Mature category." But overly violent or sexual content receives an AO rating, he said.
ESRB president Patricia Vance added in an e-mail that the board considers Monday's high court ruling called the ruling a "validation" of its ratings system.
"[It's] made clear that the video game industry effectively empowers parents to be the ones to decide which games are right for their children," she said.