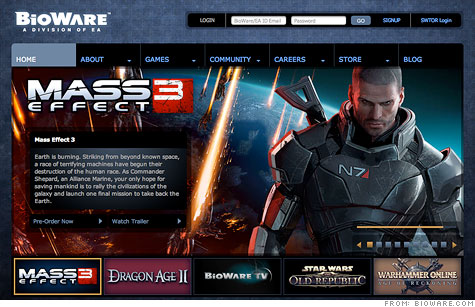 EA's BioWare Neverwinter Nights message board server was the target of a "highly sophisticated and unlawful cyberattack."
NEW YORK (CNNMoney) -- Add Electronic Arts to the ever-growing hack list. The video game maker revealed that hackers recently breached a server linked to a message board, stealing customer information in the process.
Electronic Arts (EA) said in an undated Q&A post on its site that no credit card data was compromised, nor was any other "sensitive information" like social security numbers. But information including user names, encrypted passwords, email addresses, mailing addresses, names, phone numbers, and birth dates may have been stolen, the company added.
The attack on the BioWare Neverwinter Nights message board server was "highly sophisticated and unlawful," Electronic Arts wrote, adding that the company had secured the affected server and was investigating the breach.
A representative for Electronic Arts did not immediately respond to a request for comment on how many people were affected by the hack.
The company wrote in its post that it is e-mailing "all potentially affected users. If you do not receive an e-mail from us, then we have no reason to believe that your information was potentially affected."
It's the latest in a long string of data breaches this year.
Sony (SNE) was subjected to major hacks in April and May, affecting several of its gaming systems and potentially compromising tens of millions of credit card numbers.
Also earlier this year, hackers used SecurIDs -- the tokens used by office workers to access corporate systems -- to launch cyber attacks against Lockheed Martin (LMT, Fortune 500). The maker of the tokens, RSA Security, a division of EMC Corp., (EMC, Fortune 500) offered to replace or monitor all SecurIDs.
Last week, Citigroup (C, Fortune 500) revealed more details on a hack attack from last month, revealing that 360,000 credit card accounts were accessed, far more than originally reported.
This week, hacking groups Lulz Security and Anonymous announced they have teamed up to target governments around the globe in what they're calling "Operation Anti-Security."
Also this week, cloud storage site Dropbox revealed a glitch that let visitors use any password to log in to any of its 25 million customers' accounts.