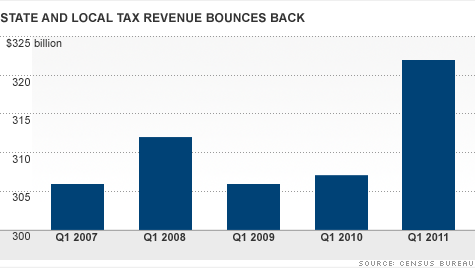 State and local tax revenue is on the upswing.
NEW YORK (CNNMoney) -- First the good news: State and local tax revenues climbed 4.7% in the first quarter, fueled by a surge in personal income taxes.
Now the bad news: Property tax revenues fell 1.7%, the second straight quarter of declines. This does not bode well for local governments that depend on property taxes to fund operations.
The new Census Bureau data, released Tuesday, shows that things are looking up for state governments. Revenues have increased for six consecutive quarters, thanks to the recovering economy and stock market, as well as tax increases, according to IHS Global Insight. But income and sales tax collections remain 1.5% below their 2008 peak.
Individual income taxes gained the most, up 11.9% compared to the same period a year ago. Sales taxes jumped 5.8%.
Several states are depending on higher tax revenues to balance their budgets. California Governor Jerry Brown and legislative leaders on Monday released a budget proposal that hinges on the Golden State bringing in $4 billion more in revenue in the coming fiscal year.
Municipalities, however, are still suffering from the economic downturn, particularly the collapse of the housing market. That's because it takes several years for property tax assessments to adjust, so the drop in home values is only showing up now.
"With property tax revenues representing a predominant share of local revenues, the foreseeable future looks grim for local governments as their tax base will continue to shrink because of falling property values," said Gregory Daco, principal U.S. economist with IHS Global Insight.