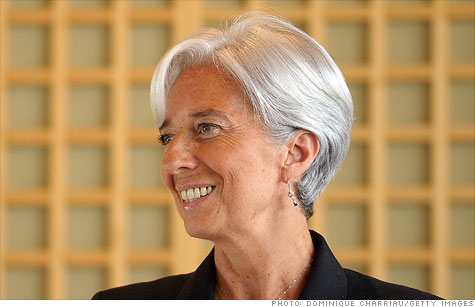 French Finance Minister Christine Lagarde will replace Dominique Strauss-Kahn as managing director.
NEW YORK (CNNMoney) -- Christine Lagarde, the finance minister of France, was voted to the post of managing director of the International Monetary Fund on Tuesday.
Lagarde, the first woman to run the global financial institution, will succeed Dominique Strauss-Kahn, who was arrested last month in New York on sexual assault charges.
The vote on the influential post came at a crucial time for the IMF, which has been working closely with the European Union and the European Central Bank to provide financial support for Greece and other troubled European economies.
Speaking in Paris, Lagarde called on the Greek government to set aside political differences and approve the additional austerity measures that are a condition of its next installment loans from the IMF and EU.
She also suggested that Greece's creditors, namely French and German banks, must be willing to make concessions.
"It must be done in a concerted, collective way," she said in comments translated from French. "All the lenders must come to the bedside of Greece and Greece must itself take charge in a responsible manner."
Lagarde will serve a five-year term as the global financial institution's managing director and chairman beginning next month, the IMF said.
"I am deeply honored by the trust placed in me by the Executive Board," Lagarde said in a statement.
The only other contender was Mexican Central Bank chief Agustin Carstens, who was supported by Australia, Canada and Mexico.
The IMF said it selected Lagarde by a consensus vote.
"I would like to thank the Fund's global membership warmly for the broad-based support I have received," said Lagarde. "I would also like to express my respect and esteem for my colleague and friend, Agustín Carstens."
U.S. Treasury Secretary Tim Geithner announced his support for Lagarde earlier Tuesday.
"Minister Lagarde's exceptional talent and broad experience will provide invaluable leadership for this indispensable institution at a critical time for the global economy," Geithner said in a statement.
Lagarde was also backed by the United Kingdom, Germany and most European powers, as well as some Asian and African nations.
The IMF, which is made up of 187 member countries, has traditionally been led by a Western European official.
Some developing nations had pushed to break that tradition, arguing that the IMF should consider candidates from rising economic powers in Asia and South America.
"I will make it my overriding goal that our institution continues to serve its entire membership with the same focus and the same spirit," said Lagarde.
China, the world's second largest economy, welcomed the decision, saying the selection process was open, transparent and merit-based, according to a statement from the nation's central bank.
The Chinese bank also said it hopes Lagarde will help reform the fund "to increase the representatives of emerging markets and developing countries in the managing structure of IMF."
The IMF was established in 1947 to help rebuild the international monetary system after World War II. In addition to monetary cooperation and exchange rate stability, the fund works to facilitate international trade and promote economic growth around the world.
The IMF has been led by John Lipsky, a veteran deputy managing director, since May 19.
Strauss-Khan pleaded not guilty earlier this month to seven charges involving a May 14 incident in which a housekeeping employee at New York's Sofitel hotel accused him of sexual assault.
Once considered a top candidate in France's next presidential race, Strauss-Khan officially resigned from the IMF on May 19. He is being held under house arrest in a Manhattan apartment on $6 million in bail money.
Lagarde, 55, has been French President Nicolas Sarkozy's finance minister since June 2007. She also served as the country's to foreign trade official.
A lawyer by training, Lagarde was a partner at the international law firm of Baker & McKenzie before going into politics.
According to her official biography, Lagarde was born in Paris to school teachers and has two children of her own.
She was a member of the French national synchronized swimming team and was inducted into the nation's Legion of Honor in 2000.
--The CNN Wire in London contributed to this report